Tutorial
How To Use Organic Builder Widgets
The Organic Builder Widgets plugin is an extremely powerful plugin for building dynamic pages using custom widgets as content sections. The plugin utilizes the core WordPress customizer, and works with ANY theme.
Adding Widgets
After installing and activating the theme, follow these steps to start adding and using widgets:
Add a new page under Pages > Add New.
Under Page Attributes apply the "Organic Custom" page Template.
Update or Publish the page.
Click the blue Customize Page button. This will take you into the WordPress Customizer for that page.
Click the + Add a Widget button to begin adding Organic Widgets to the page.
Continue adding and arranging widgets on the page as you see fit.
Save & Publish your changes.
Note: The "Organic Custom" page template needs to be applied to any page before you can begin adding widgets to it.
It's that simple. There are several custom Organic Widgets included with the plugin. Each widget acts as a unique content section — such as a slideshow, testimonials or pricing table. The widgets can be dragged and dropped into position to change the order in which they appear on the page. Additionally, your changes update in real-time within the Customizer. So you can see exactly what your site looks like at all time. It's a fast, simple and secure way to build dynamic pages.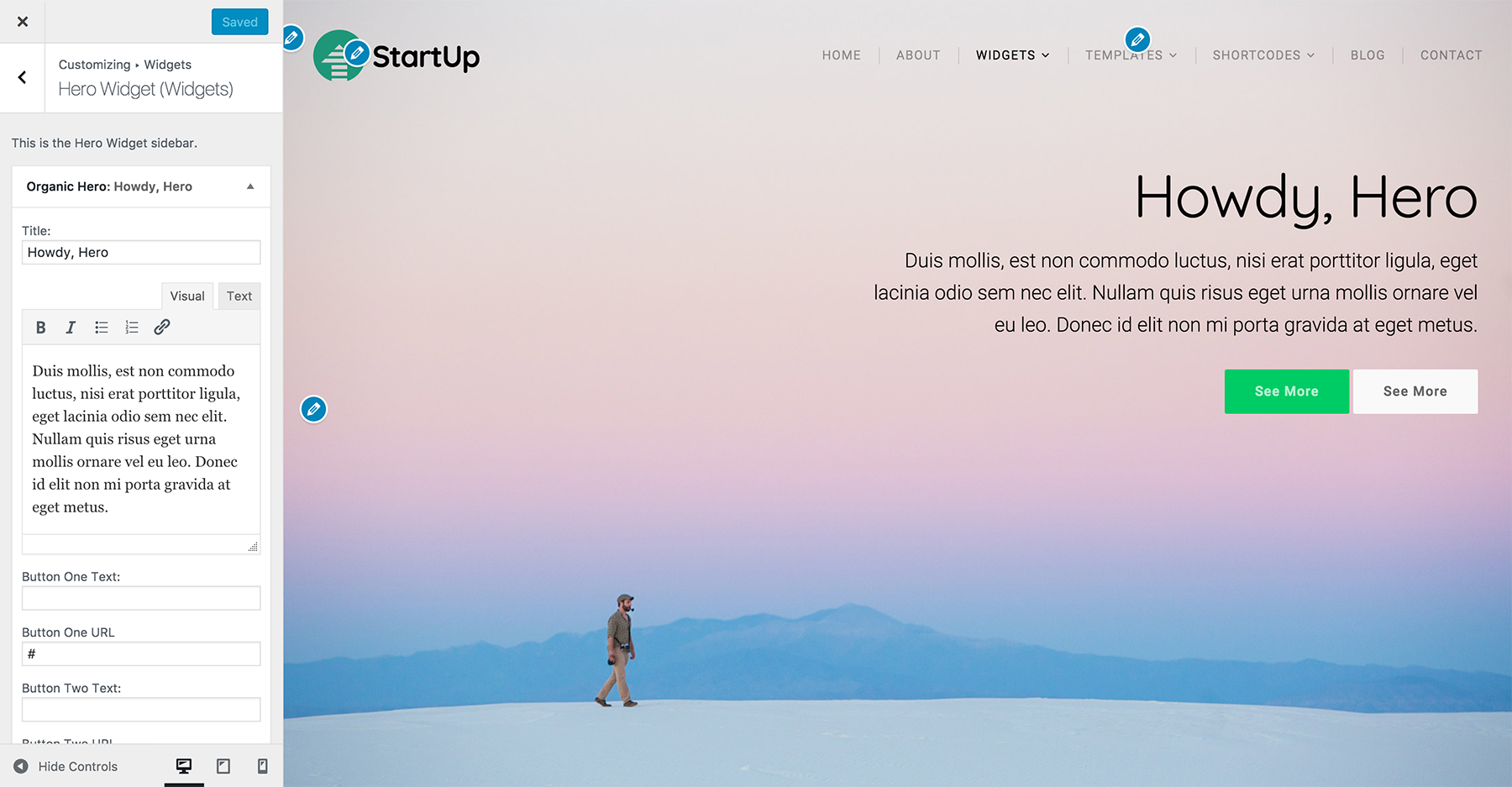 Editing Widgets
It's possible to lose track of where widgets have been added after leaving and re-entering the Customizer. Follow these steps to edit a widget you have already added:
Within the Customizer preview window, navigate to the page on your site where the widgets have been added.
Click the Blue Edit Icon next to the widget. This will automatically pull up the widget panel and options for that widget within the Customizer.
Begin changing the widget options.
Save & Publish your changes.
Included Widgets
The following widgets are included with the Organic Customizer Widgets plugin. Click the link for each widget to demo the appearance within our StartUp Theme.
Each widget can be customized by changing the background color, images and custom options. Once you're familiar with using these widgets, the options really are endless.
Groupable Widgets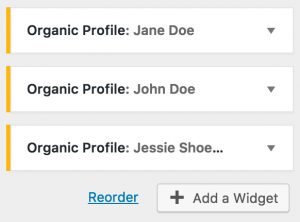 The Profile, Pricing Table and Featured Content widgets are groupable. Meaning, if you add multiple widgets of the same type next to each other, they will automatically group together into a single section. Groupable widgets are visually marked with a colored border within the Customizer, as seen in the screenshot to the left.
Note: If a non-groupable widget, or a groupable widget of a different type is added between a defined group, it will break the group. Groupable widgets will display as single full-width sections if they are not grouped with other widgets.
Using Organic Customizer Widgets, you can create dynamic pages on any WordPress website, using virtually any theme! The plugin uses core WordPress functionality. That means there is no bulky proprietary code or endless shortcodes that will drastically decrease the performance of your website. Plus, it's completely free! There is no vendor lock-in, and your widgets can be migrated between themes and websites with ease. Pretty cool.
If you have any questions regarding usage of the plugin, please post your requests in the support forums. This is a completely free plugin, so if you are in need of faster support, please refer to our Priority Support service.