---
Builder Widgets Stats
24
Premium Widgets
The number of premium widgets available with the Builder Widgets Pro plugin.
96%
Plugin Rating
The public rating of the plugin based on reviews in the WordPress.org directory.
277,915
Plugin Downloads
The number of plugin downloads from the WordPress.org directory.
6,000+
Active Installs
The number of active plugin installs on WordPress websites using Builder Widgets.
---
24 Powerful Widgets
Builder Widgets Pro includes 24 premium widgets that can be used to create amazing page layouts.
Each Builder Widget is a unique content section on your WordPress website.
Click each widget below to view an example.
Transform
The WordPress Customizer
The Builder Widgets plugin supercharges the native WordPress Customizer. As a result, there is no added learning curve for using the plugin. Build dynamic pages in real-time within a familiar interface.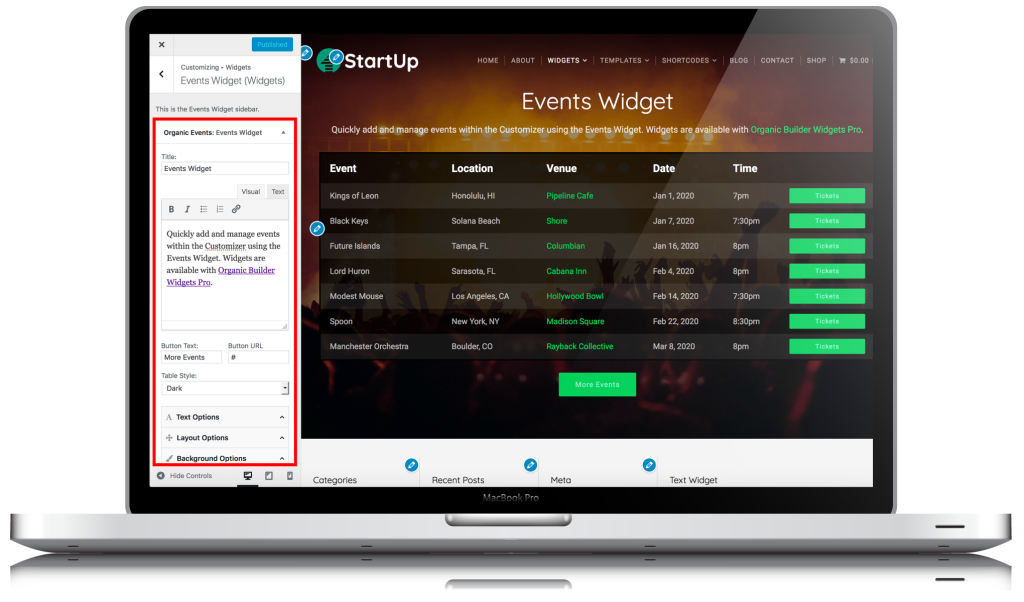 Learn
How Builder Widgets Work
Using Builder Widgets is simple! Activate the plugin, apply the "Organic Custom" page template to any page, and enter the WordPress Customizer. There, you can add and configure the widgets of your choice. Watch the video to learn more.
---
Why Builder Widgets?
The features below set Builder Widgets apart from other WordPress page builders.
User Experience
---
Builder Widgets utilizes the WordPress Customizer interface to build page layouts. The result is a logical, familiar user experience that saves you time and energy. If you know WordPress, you'll know how to use Builder Widgets.
Real-Time Preview
---
Within the WordPress Customizer, you'll see exactly how your widgets will appear before publishing. There is no going back and forth between browser tabs and refreshing changes, and no confusing guess work involved.
Widget Area Block
---
The Builder Widgets plugin includes the Widget Area Block, which is used to add Builder Widgets within the Gutenberg block editor. As a result, widgets and blocks can be used alongside each other to create dynamic pages.
Superior Support
---
The Organic Themes support team has a reputation for excellence. Support is provided in-house by English speaking US citizens. Our team is extremely responsive and knowledgeable about everything WordPress related.
I'm Ready To Get Started!
Organic Themes products are amazing. Let's Get started!
---
Case Studies
View real-life case studies of customers using Builder Widgets to create awesome websites!
Builder Customers
People love Builder Widgets! Check out what customers have to say about the plugin.
I'm enjoying your Origin Theme & your approach of building in the Customizer. This is making building a large site based on a template with repeating widgets, quick & easy. Thanks!

Adam Cope

One of the most useful plugins for creating one pagers, presentation pages, hero pages and the like in any theme. I am saying goodbye to those kind of themes since I found this!

Gregor

Organic Themes makes amazing themes and plugins for WordPress. If you're looking for a new page builder, I'd definitely check this one out. They are very good at focusing on the user experience and ease-of-use instead of offering thousands of features that most people won't use and which usually only compromise usability.

Graham McMillan

Love the new capacity to add page sections. With Gutenberg coming, this will be the new normal. Thanks for the forward-thinking and ease of design, Organic Themes.

Daniel Palmer

This is a great page builder because it doesn't overwhelm. It relies on native WordPress features like widgets and the Customizer. I love that.

Steven Gliebe

What a superb plugin Builder Widgets Pro is. As a result of creating this page I understand the plugin so much better now and can see many possibilities. Thanks very much.

Steve Sinclair

I don't do code, which is why I love Organic Themes and their Builder Widgets so much. They provide everything I need to create a beautifully designed website without having to learn a bunch of new tricks. And when I do have a question or run into problems, their support team is right there to …

Duncan Hurd

Ho Li Chit! I love this plugin. Thank you for such an elegant solution to a wide-spread WP problem. Can't wait to see where you take it from here.

Keith Sager

This is a natural fit for WordPress. It's one of the best new plugins I have explored recently. You gotta take this one out for a test drive because I can talk about it all day, but once you get aboard and punch the peddle, you're gonna love this one!

Erik Blair
---
Builder Widgets FAQ
Considering Builder Widgets to create an amazing website? If you've got questions, we've got answers.
Are Builder Widgets compatible with blocks and the block editor?
Yes, Builder Widgets can be used alongside blocks. In fact, the Builder Widgets plugin includes the Widget Area block, which can be used to add powerful Builder Widgets and blocks together on the same page.
Why are Builder Widgets added in the Customizer?
The Customizer is a core part of the WordPress platform. As a result, it's a familiar interface for all WordPress users. Additionally, the Customizer does not consume any additional resources from your hosting provider. The Builder Widgets plugin transforms the Customizer into a complete WordPress page builder, where changes to your website are viewed in real-time.
On the contrary, other builder plugins integrate custom, proprietary interfaces for building page layouts. Such proprietary interfaces are a significant departure from the traditional WordPress user experience. As a result, they require a significant learning curve, and demand higher resources from your hosting server.
Can Builder Widgets be used with other builder plugins?
The short answer is, yes. In some cases, Builder Widgets may be used to create one page, and a plugin such as Elementor may be used to create another page. Meaning, the builder plugins can be activated together without any conflicts, and used to compliment each other on the same WordPress website. However, Builder Widgets cannot be used inside the Elementor interface, and vice-versa. Builder Widgets are tested with Elementor, WPBakery, and Beaver Builder.
Can I build my entire website using Builder Widgets?
Yes, technically you can. However, we recommend that Builder Widgets are used primarily for the creation of complex page layouts and landing pages — like your website homepage. We typically do not recommend using Builder Widgets for basic informational pages. It's simply overkill. The default WordPress block editor is better suited for basic informational pages.
Why should I upgrade to Builder Widgets Pro?
The Builder Widgets Pro plugin includes 12 additional widgets for creating unique content sections, like upcoming events, food and drink menus, video galleries, and much more. Additionally, the pro version adds several more options to the free widgets, including options to add background videos or change fonts.