Builder Widgets 2.0 – A Bigger, Better, Faster WordPress Page Builder
Our popular Builder Widgets Pro plugin just got even better — with 8 new widgets and improved performance!
We're excited to announce the release of Builder Widgets Pro 2.0! We have vastly improved the premium version of the Builder Widgets plugin. The update includes 8 new widgets, additional options, and better performance.
Before I dig into the details, I'll share a brief history of the plugin. If you're already familiar with the plugin, skip ahead to the new features in 2.0.
Buy Builder Widgets Pro 2.0 | $39/yr
A Brief History of Builder Widgets
When creating Builder Widgets, it was never our intention to compete with popular WordPress page builders like Divi and Elementor. Honestly, those are fantastic plugins. However, they are a significant departure from the WordPress user experience. They are better suited as tools for experienced web designers.
In contrast, we wanted to create a page building experience that was much more simple for the average WordPress user. As a result, we re-thought the concept of visually building web pages within WordPress. Builder Widgets was the result. It's an entirely different approach to solving the same problem.
Builder Widgets integrates seamlessly with the existing WordPress interface. It allows users to build dynamic page sections directly within the WordPress Customizer. The Customizer is a familiar interface for changing the visual appearance of a WordPress theme. Builder Widgets simply elevates the Customizer to the next level.
It provides a collection of "widgets" that can be added to a page directly within the Customizer. Each widget serves a unique purpose — like creating a slideshow, portfolio, or testimonials section on any page of your website.
A Well Received Plugin
The free version of the plugin was released 2 years ago. It's continually grown in popularity, and consistently receives glowing 5-star reviews within the WordPress plugin directory.
The plugin's growth has been organic. We have yet to run any advertising campaigns or major promotions for the plugin. As a result, the customer feedback has been phenomenal in such a competitive WordPress builder market. We're confident the plugin provides a great new way to create custom WordPress pages. Try it!
We're stoked to receive feedback like this:
"I am so glad that I subscribed to the Organic Builder Widgets. They are amazing and so easy to use. I am also very happy with my Organic Themes! Thank you for making such great products!"
Builder Widgets Pro launched one year ago. The premium version of the plugin introduced many more options for the existing 12 widgets. Plus, an additional 4 widgets for adding events, business contact information, image slideshows, and split content.
It was a major step forward over the free version of the plugin. Builder Widgets Pro 2.0 is yet another major step in the plugin's progression.
New Features In Builder Widgets Pro 2.0
Version 2.0 improves upon the plugin in virtually every way. However, the biggest improvement is the introduction of 8 brand new widgets. That's a total of 24 widgets available with Builder Widgets Pro!
8 New Builder Widgets
I'm excited to introduce each new widget individually:
Toggles & Tabs Widget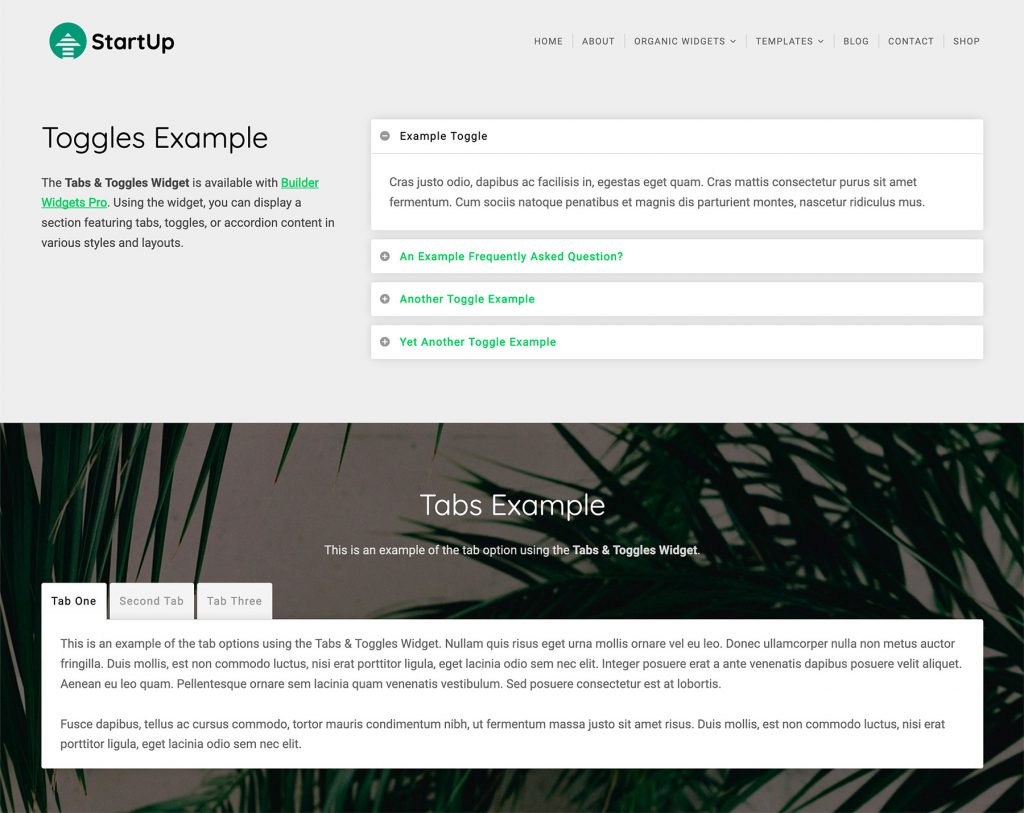 There are countless cases for displaying toggle and tab content on your website. For instance, an FAQ section or documentation regarding your business or services. Unfortunately, adding toggles and tabs within WordPress is easier said than done.
Several plugins exist for adding toggles and tabs using shortcodes. However, shortcodes are a messy solution. Plus, the visual result of shortcodes are often unpredictable. It's still "code" after all.
Wouldn't it be nice to see your toggles and tabs in action before publishing? Well, now you can!
The Toggles & Tabs Widget makes it easy to add toggles, tabs, and accordion content on any page of your website — no code required.
Simply add, subtract, and re-order your toggle items within the widget options. Then, view the changes in real-time within the Customizer. Additionally, the widget features options to change the toggle type, toggle icon, style, alignment and more for each section.
Food & Drink Menu Widget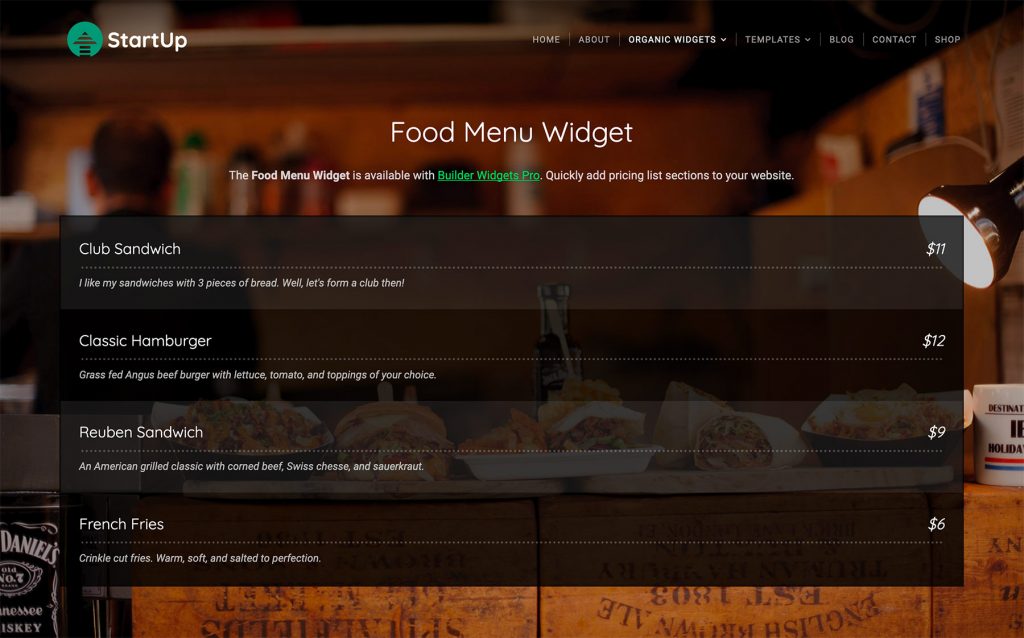 If you own a restaurant or cafe, displaying a menu on your website is a necessity. Unfortunately, most restaurant websites resort to uploading PDFs or using unresponsive tables for displaying their menu and prices. That's far from ideal.
Now, you can add multiple pages of multiple menu types with ease using the Food & Drink Menu Widget. Each menu is responsive, and displays beautifully on mobile devices.
For instance, your restaurant probably has separate menus for breakfast, lunch, and dinner. Simply create a Builder Widgets page for each menu. Then, add multiple Food & Drink Menu Widgets to each page for your appetizers, entrees, dessert, beverages, etc.
It's all accomplished within the WordPress Customizer. So, you can see exactly how your menu will appear on your site as you're creating it. Plus, you can re-order and edit each menu item with ease. It's the best way to add a menu to your restaurant website!
Search Widget

The Search Widget is perfect for listing or directory websites, like a car dealership or vacation rentals. Now, you can prominently feature a search section on any page of your site. Plus, you can choose to have the search only return results from a specified custom post type.
Within the widget options, choose to search any post type currently installed on your site — including any added by a plugin, such as events or property listings. Additionally, you can change the style of the search field, add background videos, and more!
Login Widget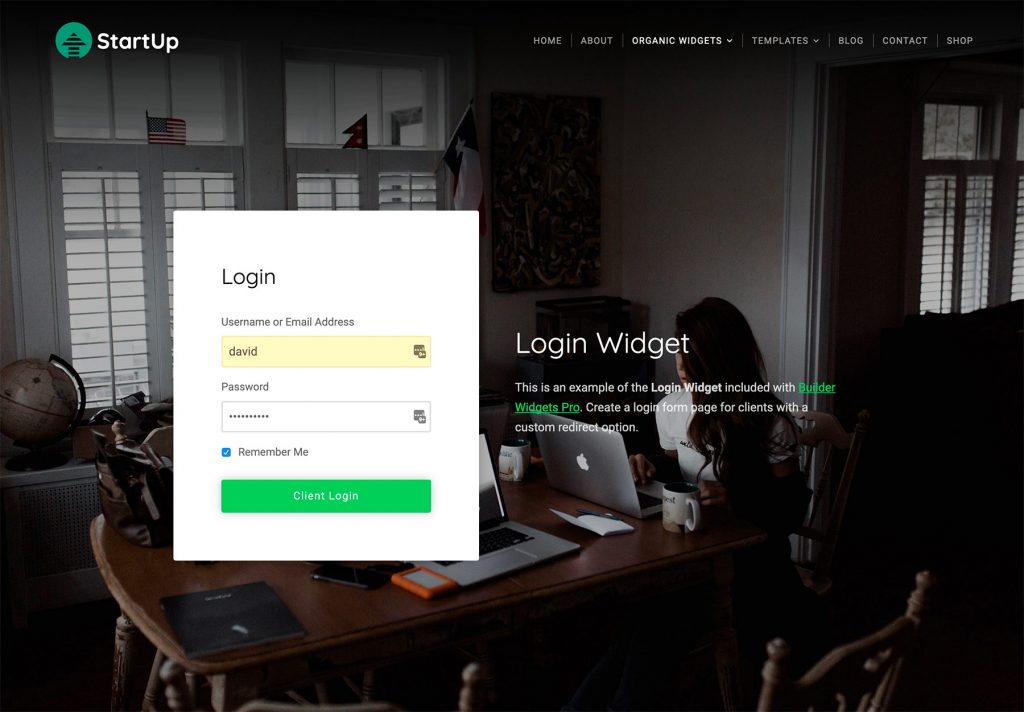 The Login Widget is perfect for membership sites, client login pages, or as a landing page while your site is being created or under maintenance.
The widget features multiple options for changing the style and alignment. Plus, there is the option to display the login section at full browser height — so it always fills the browser window.
Audio Playlist Widget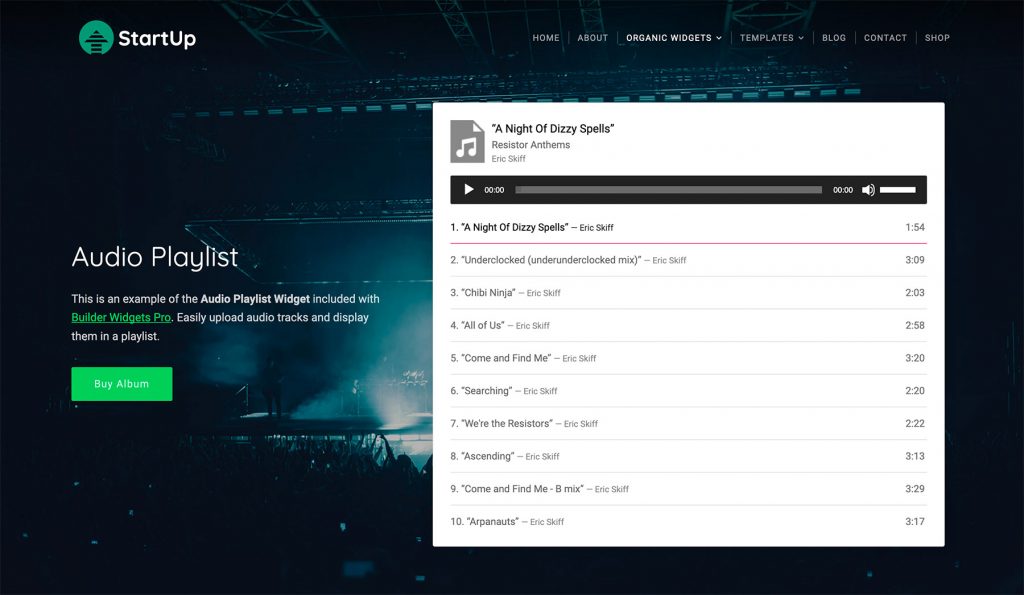 The Audio Playlist Widget is the perfect solution for musicians, entertainers, and podcasters that want to showcase audio tracks on their website.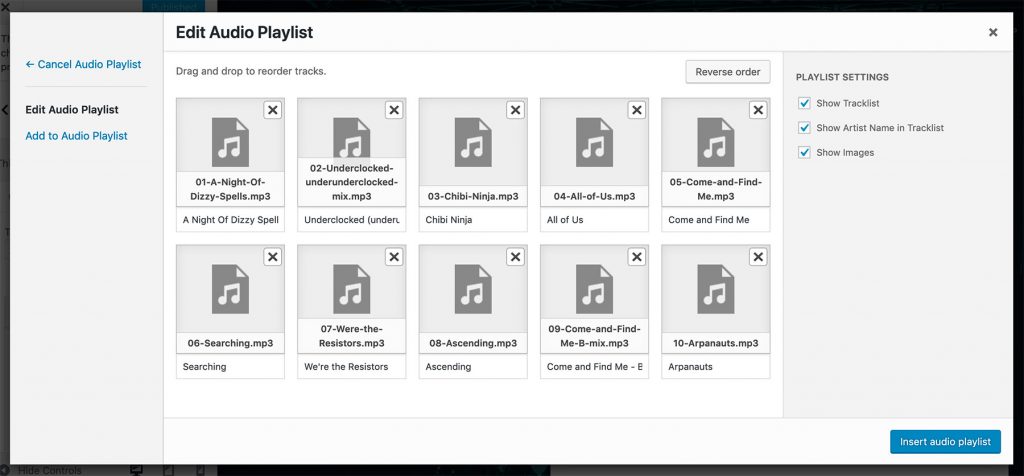 Audio files are easily managed within the WordPress media window. Simply click the "Add or Upload Audio" button within the Audio Playlist Widget options. Then, you can upload, edit, and organize the tracks you want displayed in your playlist. It's that simple!
Featured Video Widget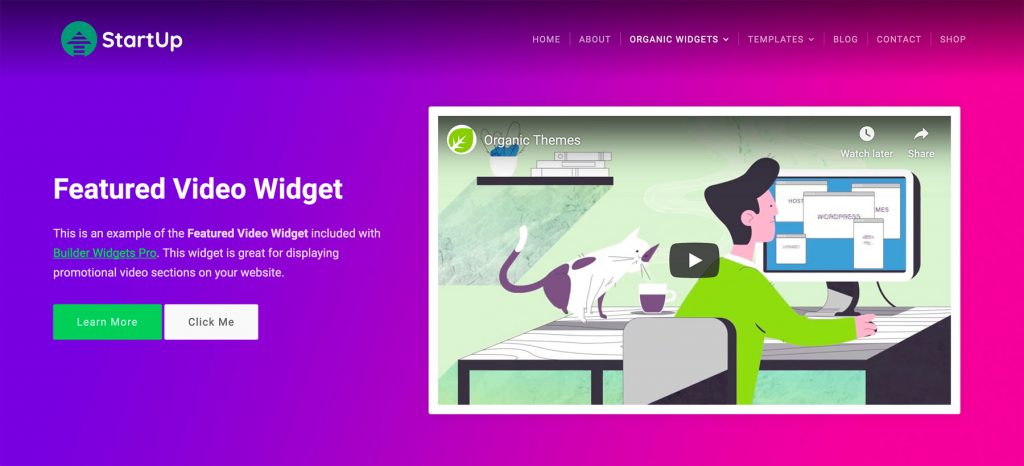 Promotional videos are great way to market your business, product, or brand. If you have such a video, you probably want to display it front and center on your website. Well, the Featured Video Widget was designed specifically for that purpose.
Prominently display a featured video from virtually any source. Add some copy, a call to action, and choose your style and alignment within the widget options. Then, your video will be ready for the world!
Image Gallery Widget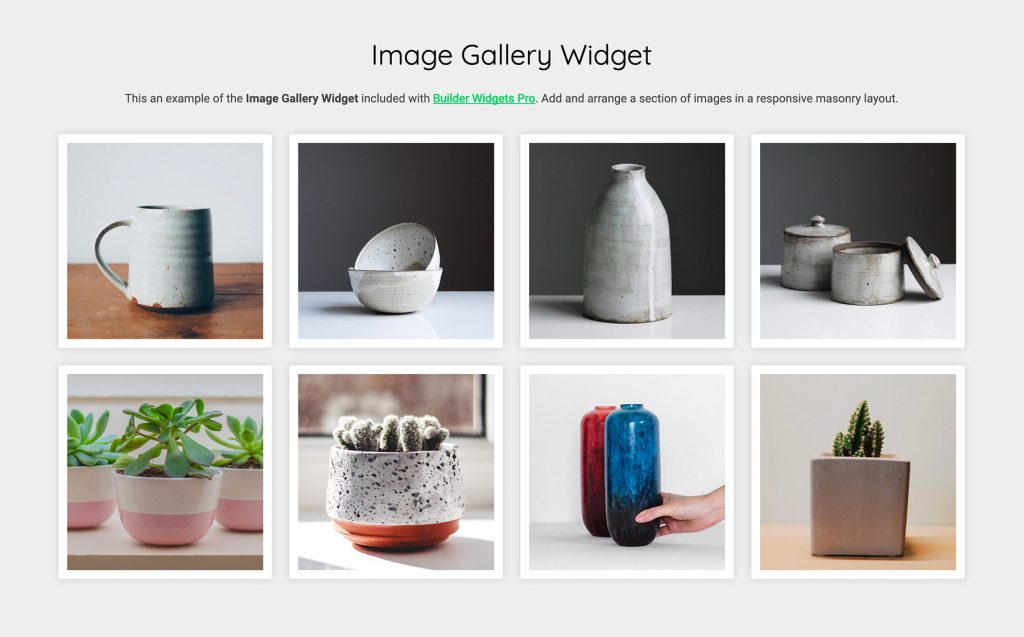 The Image Gallery Widget is another example of improving upon default WordPress functionality.
Manage images for the Image Gallery Widget within the WordPress media window. As a result, it's easy to upload, re-order, and edit your images. Additionally, the widget includes many options for changing the style and layout of your gallery.
Images within the gallery display in a responsive masonry layout. So, even if your images are different sizes, they will fit together like the pieces of a puzzle. Plus, they will arrange and scale according to the browser size.
Video Gallery Widget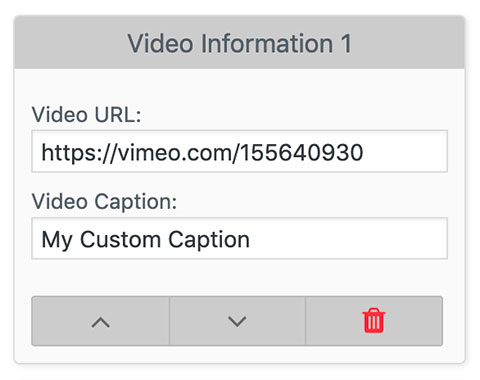 The Video Gallery Widget is the perfect solution for an animator showcasing their portfolio online — or a YouTube entertainer displaying content on their website. The widget features options for changing the layout and style of the gallery.
Add each video as a separate item. Simply paste the URL of the video source, and add an optional caption. Then, repeat the step for any additional videos. The video gallery can display videos from virtually any source such as YouTube, Vimeo, Twitch, etc.
Widget Area Block
Traditionally, Builder Widgets are used by applying the "Organic Custom" page template to any page. That action converts the entire page into a Builder Widgets page, and directs the user to the Customizer for adding widgets. It's a great solution for building an entire page using Builder Widgets.
However, what if you wanted to apply a single Builder Widget to a post or a page with existing content?
Well, that's where the Widget Area Block comes in. It's a custom block for the Gutenberg editor that registers a new widget area. After adding the block and moving it to your desired location on the page, you can then enter the Customizer to add Builder Widgets to the page. So, your Builder Widgets and blocks can live together in harmony.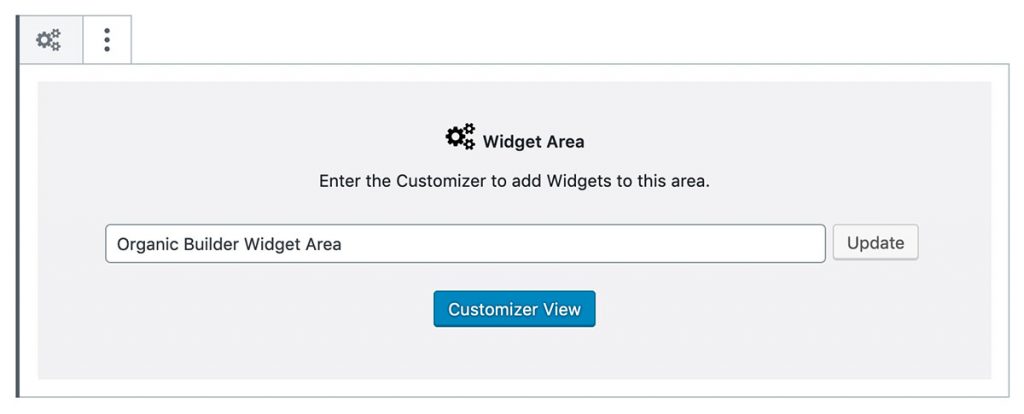 We first introduced the Widget Area Block as a plugin in the WordPress plugin directory. However, it made sense to include the block with the Builder Widgets plugin. As a result, the Widget Area Block is now integrated into the free and premium versions of the Builder Widgets plugin.
Options, Performance & Fixes
As with any software, the Builder Widgets plugin needs to evolve. So, we improved the functionality and performance of Builder Widgets Pro 2.0.
We use the plugin ourselves, and we help customers use Builder Widgets to create amazing sites like these. During that process, we learn what additional options are necessary, and what needs improvement. As a result, we've made several tweaks to Builder Widgets Pro. It's faster and smoother. The Customizer refreshes more efficiently. Javascript has been optimized. Plus, there are new options for existing widgets like the Feature List Widget.
Builder Widgets Pro 2.0 is a better version of an already awesome plugin. It's only going to get better from here.
Buy Builder Widgets Pro 2.0 | $39/yr