An Updated Theme For Photographers
Version 4.0 improves every aspect of the Photographer Theme. If you take your photography business seriously, this is the WordPress theme for you.
The Photographer Theme has always been a popular choice among professional photographers planning to create a WordPress portfolio website. So, we were careful to make sure it didn't lose its original appeal with a major theme update. Instead, we implemented several improvements suggested by our customers.
The Problem With Most Photography Themes
Many WordPress photography themes suffer from a number of pitfalls:
Full-browser width images that lose quality on large screens and retina devices.
Large images that take considerable time to load, losing the interest of prospective clients.
Flashy design elements and animation that distract viewers from the work.
Website navigation that is difficult to locate and use.
We sought to avoid these mistakes with the Photographer Theme. The recent update is no exception. Instead, the theme features a minimal design with a focus on the photography.
Focus On Photography
It's important that the imagery is the primary focus of a photographer's website. The images should be high quality and load quickly. Additionally, the website should feature a minimal design and simple navigation. As a result, the website is free of distraction.
We updated the Photographer Theme with these principles in mind.
We kept the minimal design of the previous version. However, we gave it a shave and a haircut. Meaning, we tightened up the design with cleaner lines, better fonts, and ample spacing to let your work breathe. The clean design lends itself to customization. So, with a few simple changes, your website will match your brand.
In order to retain image quality, the images throughout the theme do not exceed certain widths. This also improves load time. As a result, the Photographer Theme utilizes the browser window to frame your work. Giving your photography a sophisticated presentation.
The theme update also avoids flashy design elements and animation. Instead, it features an elegant and minimal design that's easy to navigate. As a result, your work is appreciated without distraction.
Hover Titles And Excerpts
In the previous theme version, the post title and excerpt displayed beneath the featured image on portfolio pages. Often, customers requested to hide that information.
With the recent update, post content is hidden until hovering over the image. It's a subtle change, but one that keeps visitors focused on the photography. View a portfolio page in the demo here.
Endless Content Slideshows
The Photographer Theme has always featured endless image slideshows using the "Slideshow" page template. On the other hand, content slideshows were limited.
Not anymore.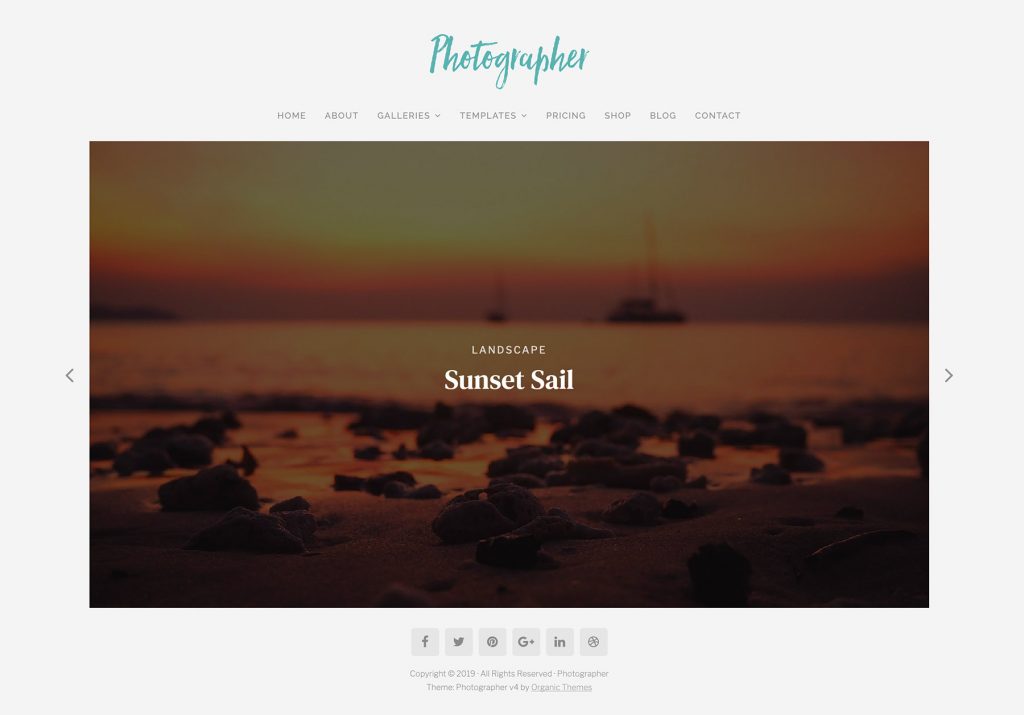 With a content slideshow, each slide links to a page. Now, you may create endless content slideshows.
This updated feature utilizes the Jetpack portfolio custom post type. Each portfolio "Project Type" may be added to your menu as a content slideshow. As a result, there is no limit to your slideshow ambitions. View an example in the demo here.
Absolute Centered Slideshows
Once upon a time, photographers used Flash websites to showcase their online portfolios. Eventually, and for good reason, HTML websites replaced Flash. Although, I did miss one aspect of Flash websites. The ability to easily center all content within the browser window.
With an HTML website, centering content both horizontally AND vertically has always been a challenge, until recently. Now, all modern browsers support CSS flexbox layouts. So, designers, artists, and photographers can have their work centered once again!
The latest version of the Photographer Theme centers all slideshow pages within the browser window. As a result, the images within the slideshow are always the center of attention.
Improved Theme Options
In the latest theme update, we stripped out non-essential options and functions. As a result, the setup is fast and simple.
There are a few added options. Now, you can change fonts throughout the theme. Additionally, there are options to change the header layout. As with all Organic Themes, options are managed in the WordPress Customizer.
Additional Improvements
The updated Photographer Theme vastly improves upon the previous WooCommerce integration. As a result, selling your photography and services online is easier than ever. Plus, your shop will blend in perfectly with the rest of your site.
The theme is also optimized for the Gutenberg editor. It features support wide and full alignment blocks, and custom block styles. Plus, the editor styles and fonts match the front-end of your site.
Last but not least, the home page slideshow features new options. Now, multiple posts can display on each slide. So, your home slideshow can be used as a tool to guide visitors through your website.
It's the ultimate WordPress for photographers that take their work seriously. So, purchase or update the theme for your photography website today!
If you need help with setup, please refer to the documentation or our Theme Setup Service.