Theme Updates: Adventure, Collective, Profile
We are excited to announce significant updates for three of our popular themes — Adventure, Collective and Profile.
WordPress Customizer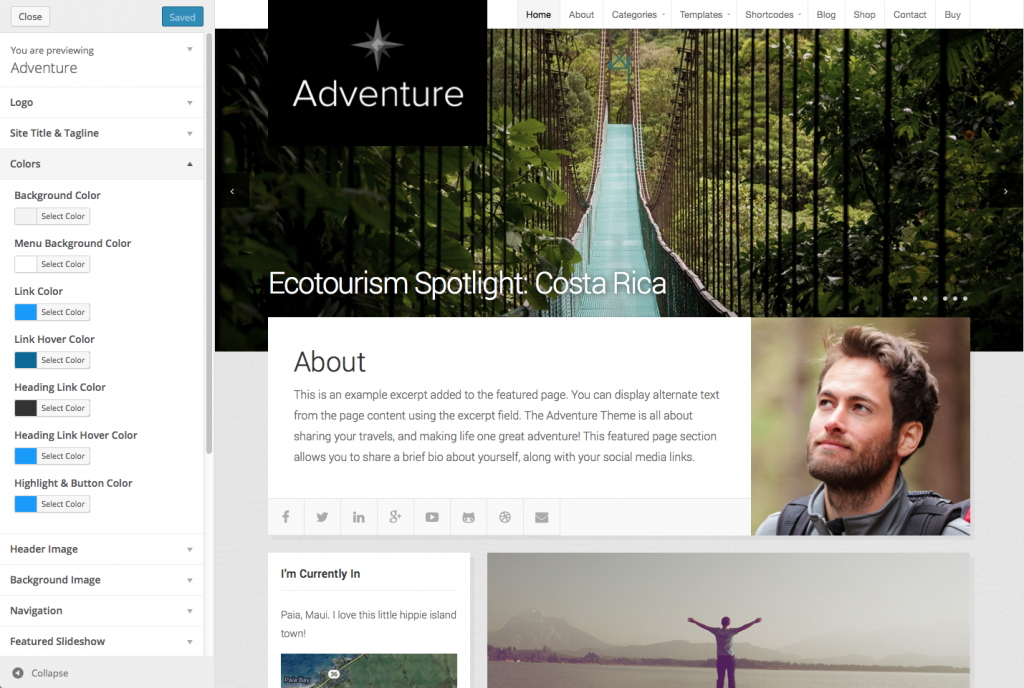 The Adventure, Collective and Profile themes will now utilize the WordPress customizer to manage theme options instead of the previously used Options Framework. We plan to eventually convert all our themes to use the customizer for a few reasons:
Seamless Theme Setup & Previewing — The customizer displays your changes as you're making them. There's no need to go back and forth from saving theme options to previewing the changes on the site.
Faster Site Load Time — Since the customizer is integrated into the core of the WordPress software, there's no time wasted on communication with bulky options code in the theme.
Easier WP.com Transition — WordPress.com is placing a heavy emphasis on the customizer. Since our WP.com theme users are being conditioned to using the customizer, we want to make any transition between the .org and .com versions of WordPress as seamless as possible.
After updating to the latest versions of these themes, you will need to re-save your theme options under Appearance > Customize in the WordPress admin.
Theme Licensing
Now customers can easily upgrade these themes within the WordPress dashboard upon activating a theme license. The integration of theme licensing makes bug fixes and maintenance updates much more efficient for our customers.
We plan to eventually integrate licensing within all of our themes. Upon purchasing one of these recently updated themes or any of our newer themes you will be provided with a theme license via email, and within your Organic Themes account.
A theme license can be used on an unlimited number of sites, and we currently have no plans to restrict theme usage to a specific number of domains. Theme licensing is meant to benefit our customers by providing more efficient theme updates, and is also a way for us to prevent piracy and fraud.
Please Note: If you have previously purchased one of these themes, you will need to contact us directly to have a license generated for you.
Social Media Custom Menu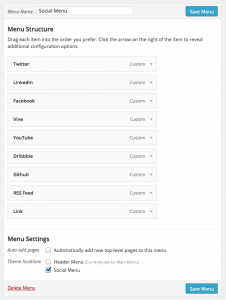 Previously our themes were each limited to a set amount of social media links within the theme options. We are retiring this method in favor of using the WordPress Custom Menus to create and manage your social media links within our themes.
The Adventure, Collective and Profile themes now take advantage of this new way of managing your social media links. Within the Appearance > Menus section of WordPress create a new menu, add your social media links, and save the menu to the Social Menu location. You can drag and drop the links within the menu to change the order in which they are displayed. The social media menu also works with RSS feed links and "mailto" links for email.
We hope our customers are pleased with these updates. Other recent theme releases and updates such as Purpose, Restaurant, Connect and more already take advantage of these awesome features! Stay tuned for more updates from Organic Themes by following our RSS Feed or subscribing to our newsletter.