Have you been looking for a WordPress theme with more color options? The WordPress Color Theme puts the power of color in your hands! Change colors for each page background. Create gradients and animating color transitions. Change the header, footer, links and button colors! This theme features a bold and minimal design with a BIG emphasis on color!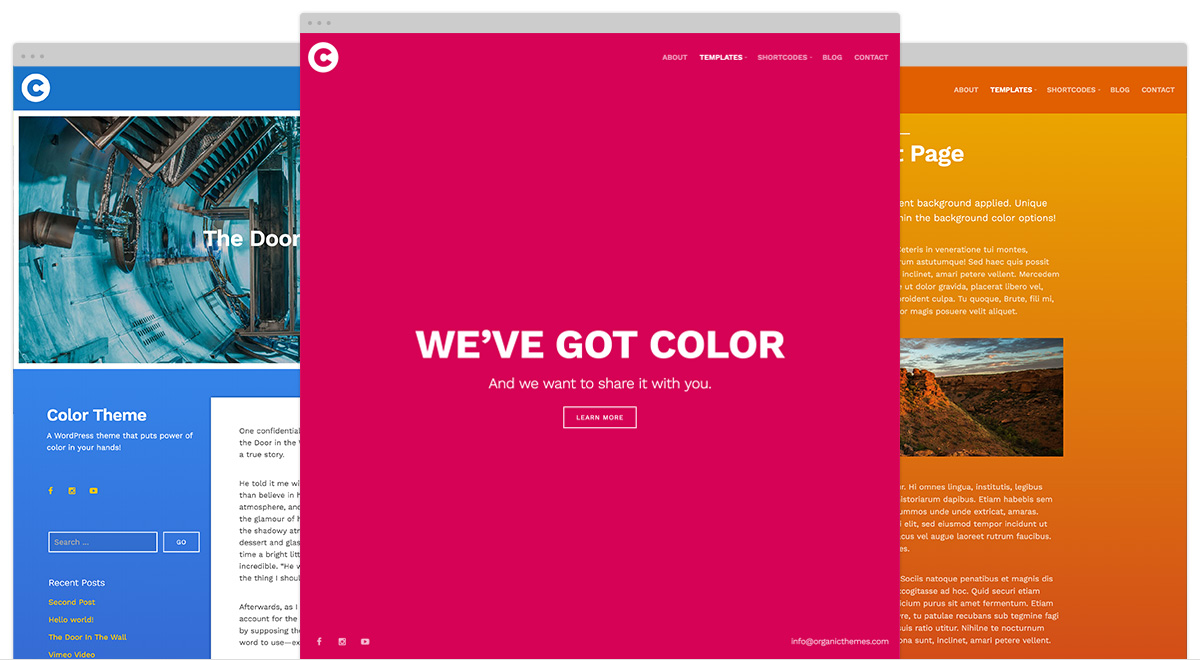 Like all Organic Themes, we have developed the WordPress Color Theme to be intuitive. It works immediately out-of-the-box. There is no time consuming setup process. There are no required plugins. There are no overly complicated and overwhelming options panels. The theme features just the right amount of color options without going overboard. Colors can be changed within the core supported WordPress customizer. Additional custom meta options on each page can be used for creating different color combinations and seamless gradients. In addition, animating background color transitions can be created by adding child pages with different background colors to a parent page. It's a sweet effect!
We won't bore you with any more technical mumbo jumbo about the latest WordPress features and functionality. You can learn more about that stuff on the theme page. Just take a look at this cool theme, salivate over the decadent color palette, and give your next website a big splash of Color!
If you're tired of monotone themes and corporate blue color schemes, give your website a splash of vibrant color!
Add pizazz to your website with the WordPress Color Theme. However, be careful and treat your usage of color with care. Too much color in the wrong hands can be disastrous. Look at the abomination hippies created with tie-die t-shirts! A little color theory goes a long way with this theme. When honing the ultimate power of color wisely, you can create a vibrant website that will be pure eye candy for your visitors!