Organic Themes has a new website, re-structured the pricing, and released a priority support service. Whoa, don't freak out! These are good things! We're giving you more for less!
---
New Pricing
Finally, Organic Themes has introduced a new pricing plan! The new All Themes package provides customers with the option to own our entire theme collection for only $30 more than the cost of a single theme. So check out the updated pricing page, and we'll explain the changes below.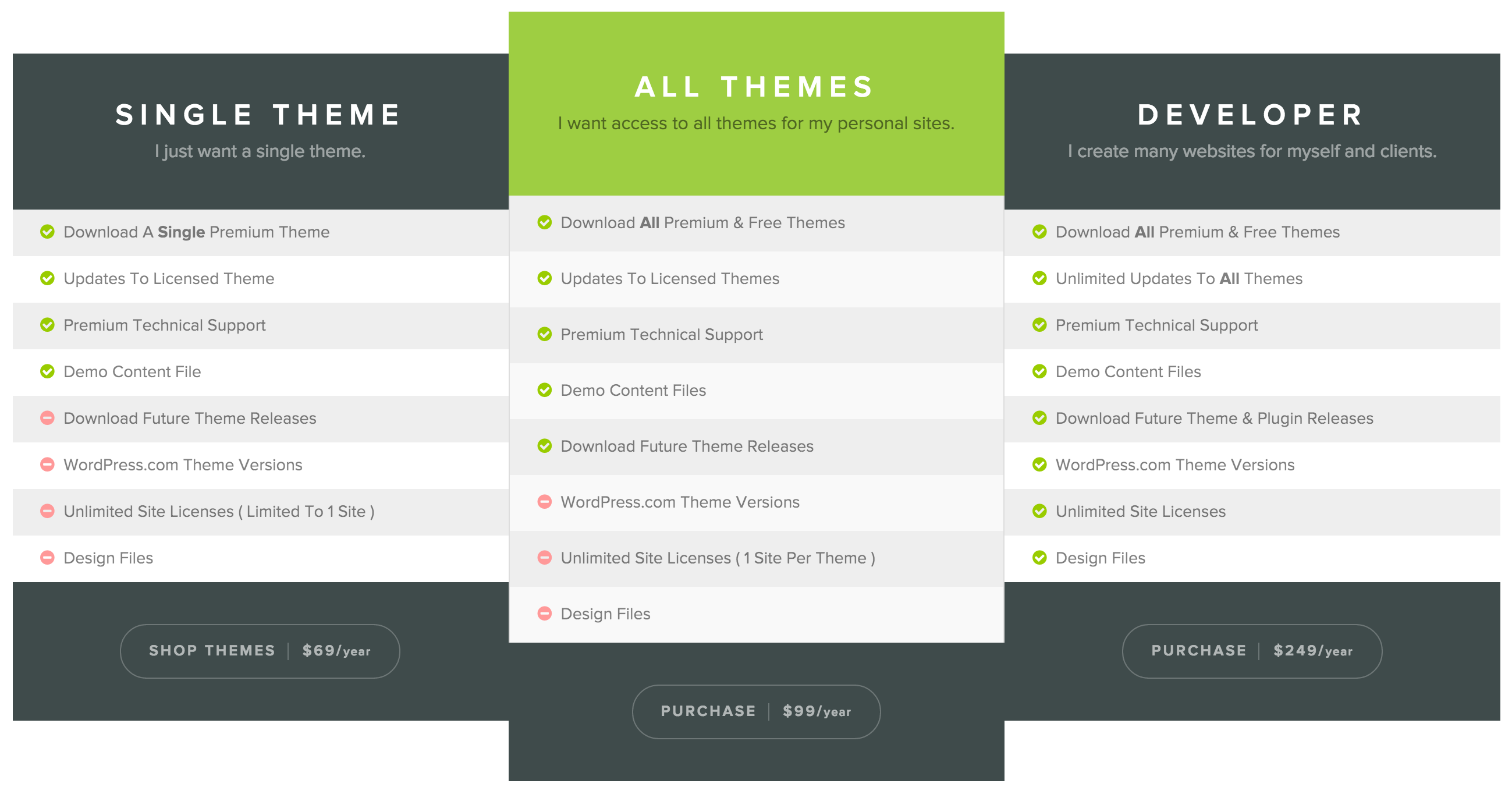 Single Theme Package – $69/yr
Single Theme pricing will remain the same. However, there are a couple modifications:
One website license is included.
Design files will no longer be included.
All Themes Package – $99/yr
The All Themes package provides the customer with all existing Organic Themes, as well as future theme releases.
Includes all themes available from our site.
One website license for each theme.
Design files are not included.
If you can't decide between a few of our WordPress themes, the All Themes package is the perfect solution for you!
Developer Package – $249/yr
The Developer membership is now the only package to feature unlimited website licenses and design files, along with our entire theme collection. The Developer Package now includes all 10 WordPress.com theme versions, as well as any future WordPress.com theme releases from Organic Themes. In addition, the package includes our new Footer Change Plugin, and any future plugin releases.
Includes all themes and plugins.
Unlimited website licenses for all themes.
Includes all 10 WordPress.com theme versions.
Includes design files for all themes.
Note: Each pricing package employs a yearly subscription for support, licensing, updates and ongoing maintenance. Our annual subscription has been in place for several years, ensuring that we can continue to provide quality support, updates and new themes to our customers.
---
Priority Support

Our recent survey provided a wealth of information regarding customer requests for new themes and services. Many of the requests have already been put into development, including Priority Support.
We now offer Priority Support as an option to customers that want more responsive and personalized theme support. Priority Support is provided via a private ticket system, rather than our support forums. As a result, we can track customer purchases and history for a more efficient and personalized experience. Priority Support tickets will be given precedence over questions asked in the forums. The cost is $49 for 30 days, or $199 for a year.
What does this mean for regular support customers?
Nothing. We will continue providing support within the forums to Organic Themes customers with active subscriptions. The support team will be active in the forums from the hours of 9am to 5pm EST, and questions will be answered within 48 hours.
In summary, theme support is now available via 2 channels — the Support Forums and Priority Support. The support forums are available to all paying Organic Themes customers with an active subscription. Priority Support is an optional upgrade for faster response times and a more personalized experience.
---
New Website
Have you noticed things are looking different at Organic Themes? That's because we recently updated the website design to reflect the exciting new changes taking place within the company.
We created a better user experience by getting rid of the fluff in the previous design. The new minimal design makes navigation ridiculously simple on a desktop and mobile devices. The account sections have been updated for easier management of downloads and purchases. The theme detail pages feature a fresh new look for showcasing theme information. The entire site is now secured through https, rather than only account and checkout pages. In addition, we removed several scripts, images and simplified the theme code in an attempt to reduce load times.
Overall, we have strived to make information throughout the new website more clear and organized. Making a switch of this scale is a big undertaking, and we don't want to leave any stone left unturned. So please let us know in the comments below how you like the new website, and if there is anything we can do to further improve the experience.