The Free Retro Theme Debuts In The WordPress Repository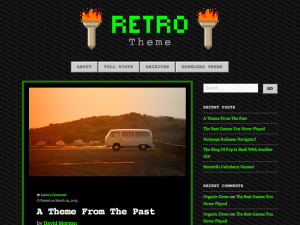 We released the Retro Theme for free on our site earlier this year as an April Fool's joke. The theme was purposely designed to look like an old Geocities website from the 90s — complete with "Dancing Baby" and "Under Construction" animated gifs. In addition, it features some pretty awesome background midi music.
The joke theme gained more attention than expected, and to our surprise some people took a liking to the nostalgic design. As a result, we decided to release Retro in the WordPress theme repository. After the long review process, and being forced to remove some sweet animated gifs, Retro has finally debuted!
Despite its "classic" appearance, the theme is very well developed. We even included an option to change or disable the annoying background midi music within the WordPress customizer. Aren't we nice!
The theme is named "90s Retro" in the repository, and available for download here. Install the theme on your friends blog as a joke! Use it as a review site for all your favorite SNES and Sega Genesis games! Showcase all your favorite animated pixel gifs! Bring back the 90s web style with Retro!