Tutorial
Reference: Reading Settings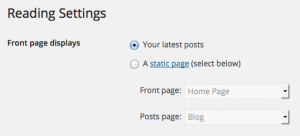 Displaying the home page within our themes may require making sure your Reading settings are setup properly.
Navigate to Settings > Reading in your WordPress dashboard.
For older themes, you may need to select the 'Your latest posts' option to ensure that the theme's home page displays as per the theme demo. Many of our older themes use a home.php file to display a custom home page by default. This will not show a blog post index (as you might expect). If you are interested in the reason, please see the Codex article on the WordPress Template Hierarchy.
Newer themes may require that you apply the home page template to a page. Then, within the Reading settings, choose to display a static page. Select your published home page with the Home Page template applied. Optionally, you can set a Posts page to display your blog.