The Verbage Theme!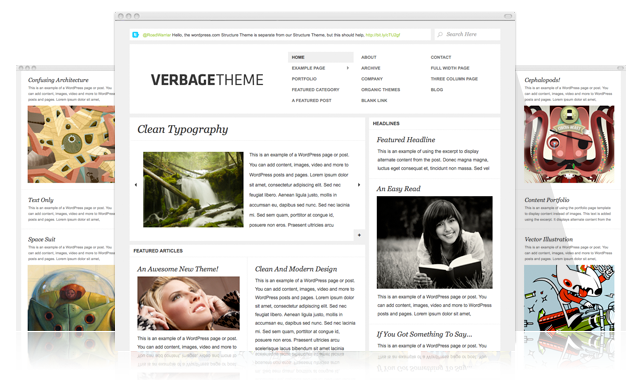 It's that time again! Time for a new Organic Theme overflowing with pure awesomeness! The Verbage Theme is no exception. Check out the demo here. For a quick overview of the features and to purchase the theme, check out the theme page here.
The Verbage Theme is designed with a modern style that focuses on clean typography and content. The theme is developed to function perfectly with — or without photos added. Let's face it, finding and purchasing beautiful photos for your content is a time consuming process, and often expensive. With the Verbage Theme, it's not a necessity to add featured images to every post, but the option is available should you choose to do so. As a result, creating an effective and beautiful website can be achieved much faster.
The Verbage Theme has a particularly unique navigation layout, creating maximum space for page, category and custom links. The theme also features collapsible footer widgets, saving you precious web space should you choose not to add footer widgets. Other sweet enhancements include a Twitter feed, multiple page templates (including a portfolio template and 3 column template), and righteous rollover effects to make the user experience that much more enjoyable.
If that wasn't enough, we have created a free version of the Verbage Theme. We're just that crazy. It doesn't have the enhanced features, theme options or support included with the premium version — but hey, it's still a finely crafted theme for free! You can download the free version on the theme page here.