The Bold Theme 3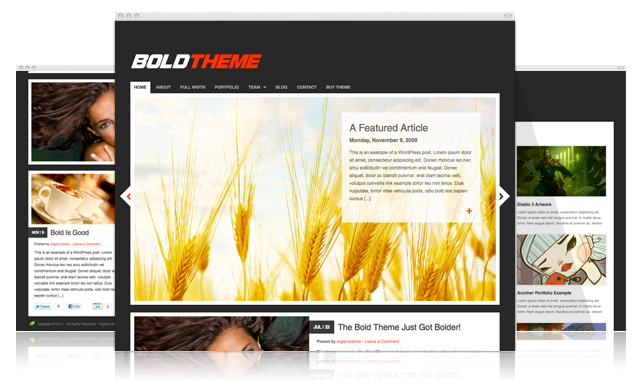 The Bold Theme is the latest of our themes to receive a major update to the design, functionality and features. Check out the updated demo here. Rather than retire the theme, we have breathed new life in to it. Previously, the Bold Theme couldn't decide what kind of theme it wanted to be. It was more of a general purpose theme. With the latest update, we have redefined the Bold Theme as a video theme. The large content slider is now ideal for showcasing HD video, and the theme is a perfect solution for vloggers, animators and videographers. In addition to redefining the theme's purpose, we have added several other new features:

Options Framework
The theme update also integrates with the Options Framework plugin, which offers a much more sleek options interface.
Featured Content Slider
The new featured content slider for the Bold Theme can display an unlimited amount of posts with a featured image or a featured video.
Tweet, Like and Google Plus Buttons
Everybody loves to share! With the latest update to the theme, simple Twitter, Facebook and Google Plus buttons have been added to featured home page posts.
Featured Videos
The theme is now capable of displaying featured videos within the slider, homepage tabber and category pages.
Featured Image Banners
Featured images can now be added to pages and page templates to be displayed as a banner image for that particular page.
Multiple Homepage Post Options
You can display one, two or three column posts on the homepage — allowing for greater control of the homepage layout.
Numbered Pagination
The blog and category pagination is now much more accommodating — allowing you to skip ahead to specific page numbers.