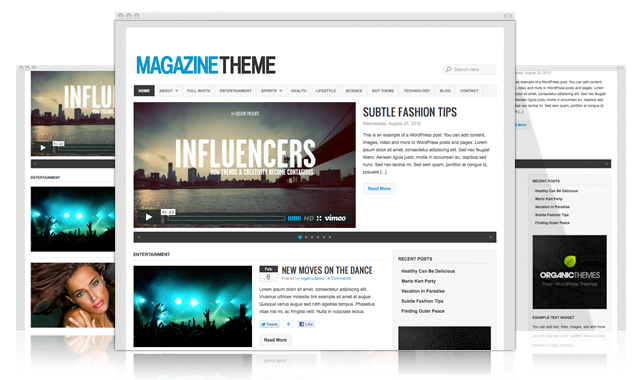 We have made major improvements to our Magazine Theme! Check out the demo here. The Magazine Theme is the most recent of our older themes to receive a facelift. We have cleaned up the design, styling and code considerably while also adding many new features. We have structured the new Magazine Theme to play nicely with the popular BuddyPress plugin, so a new level of community features can be integrated with ease. This version of the theme is sure to be a hit with online magazines, businesses and communities. Many other new features include:
Options Framework
The theme update also integrates with the Options Framework plugin, which offers a much more sleek options interface.
Featured Content Slider
The new featured content slider for the Magazine Theme can display an unlimited amount of posts with a featured image or a featured video.
Tweet and Like Buttons
Everybody loves to share! With the latest update to the theme, simple Twitter and Facebook buttons have been added to featured home page posts.
Featured Videos
The theme is now capable of displaying featured videos within the slider, homepage tabber and category pages.
Featured Image Banners
Featured images can now be added to pages and page templates to be displayed as a banner image for that particular page.
Google Font Headings
To add that extra little design flare, we have integrated Google fonts for main headings.
Numbered Pagination
If you have lots of posts, the pagination is now much more accommodating — allowing you to skip ahead to specific page numbers.