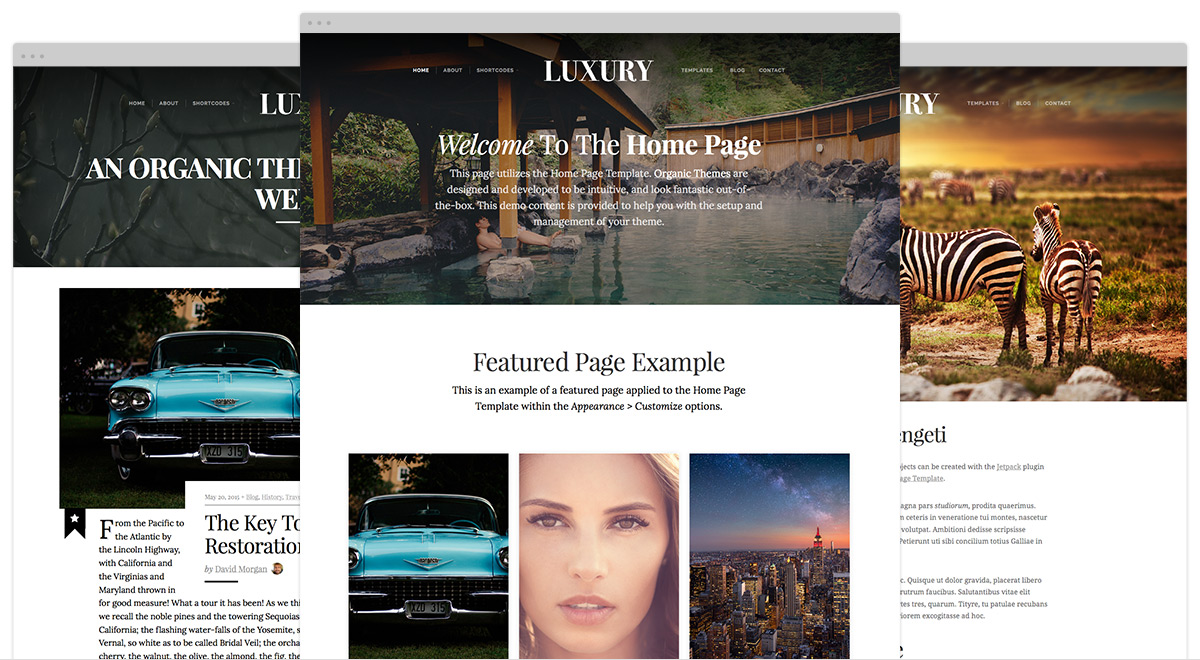 Our latest theme was created for sharing the finer things in life. Luxury features a sophisticated design with a strong focus on elegant typography and content layout. The theme is an excellent solution as a blog or business site catering to a luxurious lifestyle — such as travel, weddings and fashion.
As for the functionality, Luxury follows suit with the Swell Theme. The theme displays a blog instead of a home page upon activation. The home page template can be set within the WordPress Reading settings or the Customizer. In addition, the theme utilizes Jetpack features such as Infinite Scroll, Featured Content and the Portfolio Custom Post Type. Our new themes and updates will place a heavier emphasis on the powerful Jetpack plugin and it's suite of helpful WordPress tools. This should make for an easier transition for our customers between WordPress.org, WordPress.com and between all Organic Themes.
With the Luxury Theme, we have abandoned the Featured Video function and custom field in favor of automatically featuring the first video applied to a post. We believe this will be more intuitive and save our customers the extra steps of finding and pasting video embed codes. In addition, similar functionality is used for the Link and Audio Post Formats within the theme.
In addition, Luxury features some unique design and functionality. The featured content slider for the theme displays 3 featured posts at a time, and can be displayed on the Home and Featured Content Page Templates. The theme was designed to display a central logo, with a menu displayed on the left and right sides of the logo. These menus can be managed within the Appearance > Menus section of the WordPress admin.
Overall, Luxury is a classy addition to our theme collection that improves upon every aspect of our previous themes. It's perfect for anybody that places an emphasis on elegance and sophistication in their website or brand.