Introducing The Shop Theme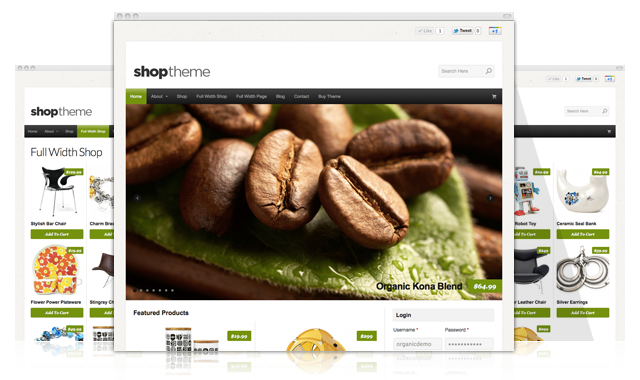 In case you haven't heard the news, we released our first eCommerce WordPress theme, the Shop Theme! Check out the demo to see the theme in action. The Shop Theme is compatible with either the Jigoshop or WooCommerce plugins — both of which are free and simple to use. The design is clean and modern, and can easily be adapted to match any brand or product. The theme also features a responsive layout for mobile phones, so your shop will be more accessible for mobile customers. In addition, there is a full width shop page template, color change options, Gravity Forms styling and much more! The Shop Theme is an excellent, cost effective solution for selling products online. Start selling today!
Two eCommerce Plugin Options
Rather than limiting the theme to only a single eCommerce plugin option, the Shop Theme is compatible with 2 trusted and supported plugins, Jigoshop or WooCommerce.
Responsive Layout
The Shop Theme scales to fit mobile phones and devices, providing an easily navigated experience for mobile viewers.
Options Framework
The theme integrates with the Options Framework plugin, which offers a sleek options interface.
Featured Product Slider
The featured product slider can display products from a category defined in the theme options.
Numbered Pagination
The theme features numbered pagination on the blog page template.
Google Fonts
Google Fonts have been added to several headings throughout the theme.
Color Change Options
The site background, links, rollover and highlight colors can all be changed in the theme options.
Featured Image Banners
Featured images can be added to pages and page templates as a banner image for that particular page.