Introducing The Organic Shortcodes Plugin
The Organic Shortcodes plugin makes it easy to create beautiful buttons, add columns, tabs, toggles, accordions and much more within your content.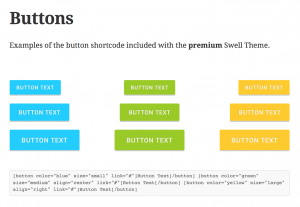 Organic Themes has included a small set of shortcodes within our WordPress themes for a long time. But to be honest, we never handled it properly. You see, shortcodes are plugin territory. It's not kosher to build that functionality into themes. Our goal has always been to create lean WordPress themes with no added hormones — the way WordPress intended. Frankly, the shortcodes didn't belong.
We recently made a round of updates to all of our themes removing any shortcode functions. However, since many of our customers and themes rely on these helpful shortcodes, we created one simple plugin to rule them all. Updating your theme will remove all shortcodes from the theme, but you will be prompted to install the Organic Shortcodes plugin. We recommend doing so. Any existing shortcodes you've used with an Organic Theme will work exactly as they have before, and now they will transfer seamlessly among our themes.
Examples of the shortcodes and their usage can be found within any of our theme demos. The plugin is free for all, and can be downloaded here.