An Organic Themes Update: Changes Are Coming
Big changes are coming to the Organic Themes — including a new website and block-based theme!
Great changes are on the way! Our blog has remained somewhat silent for several months. However, Organic Themes has been working diligently behind the scenes. The WordPress platform and themes are changing. And Organic Themes is evolving with those changes. A pivot is upon us.
First, let's talk about the changes happening within WordPress. Then, we'll get to the changes coming to Organic Themes.
Full Site Editing
The next evolution of WordPress introduces Full-Site Editing (FSE).
When using the Full-Site Editor, you can customize every element of your WordPress website directly within the editor. And I mean everything. Your website header, footer, page templates, layouts, global styles, and more — it can all be customized. Pretty cool.
In short, WordPress is finally becoming a complete website builder — like Divi or Elementor, but without the need for such plugins.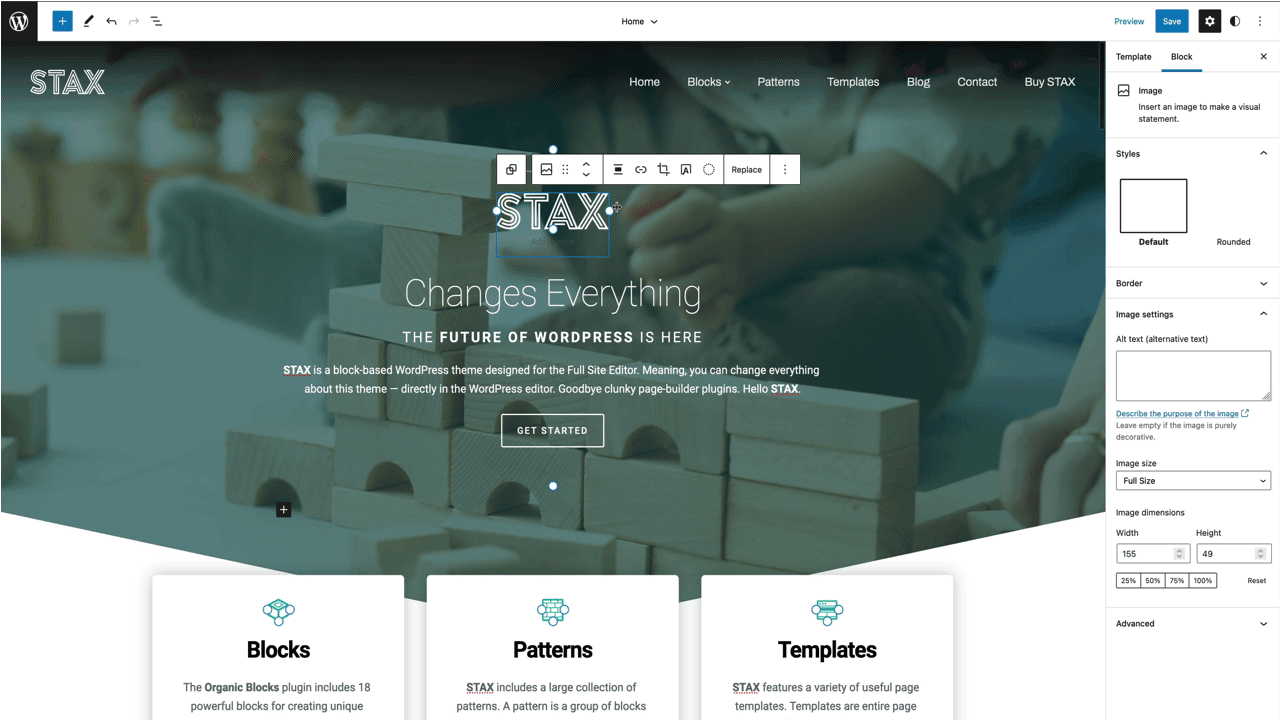 In order to take full advantage of the new Full-Site Editor, a block-based theme is required. The above example showcases our STAX block-based theme, which is currently under development. We'll get to that, but first let's talk about block-based themes.
Block-Based Themes
Traditional WordPress themes have always been somewhat rigid. While many traditional themes have Customizer options for changing global styles, there are still several limitations to the Customizer. As the name suggests, you can "customize" an existing design, but you can't change it completely.
For instance, changing the layout of a traditional WordPress theme often involves editing PHP code within theme files. Making granular changes to website elements often requires custom HTML and CSS. Such changes require development skills beyond the average WordPress user.
Full-Site Editing and block-based themes resolve this issue of limited customization. Block themes will not need Customizer options or robust page-builder plugins to change every element of your website design.
Of course, in order to take advantage of the new Full-Site Editor, you will need a good block-based theme. And, since Full-Site Editing is still in the experimental phase, there are only a handful of block-based themes currently available for testing, all of which require the Gutenberg plugin to use, and all of which are likely to change in the coming months.
Knowing this future will soon be upon us, Organic Themes was at a crossroads — continue developing rigid, traditional WordPress themes, or begin working on block-based themes. We opted for the latter.
With our eye to the future, we are currently deep in the development of a new block-based theme called STAX. Which brings us to our first major Organic Themes update:
The Upcoming STAX Theme
Below is the first glimpse of our upcoming block-based theme — STAX.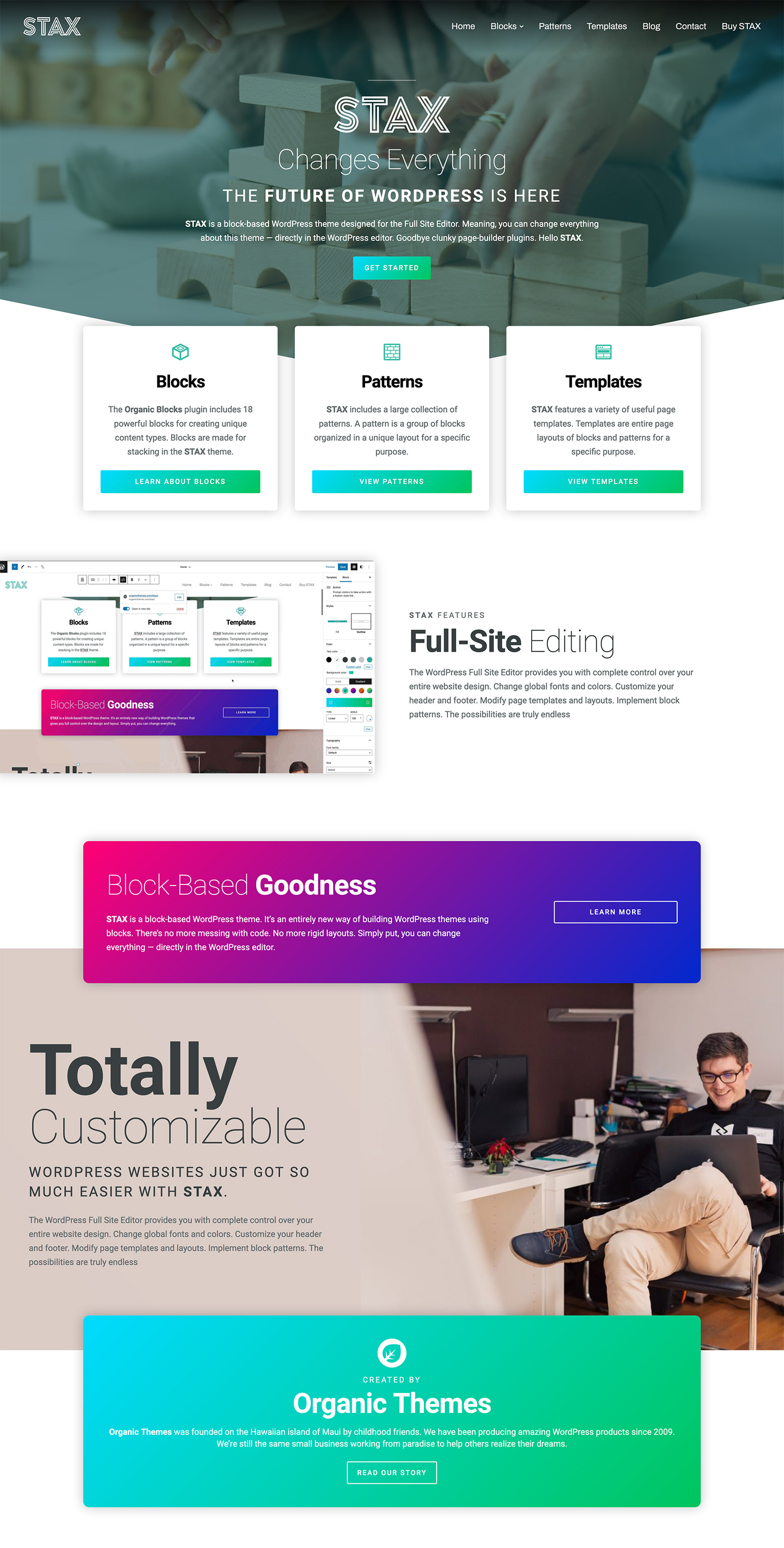 Unlike traditional WordPress themes, block-based themes are created using mostly HTML files, with a little bit of PHP and JavaScript sprinkled into the mix. But what you really need to know is that it's an entirely different type of WordPress theme altogether. Consequently, an entirely new approach is required to develop such a theme. At first, that scared the pants off of me.
However, as I've been working with the new technology and methodology of building block-based themes, I have found myself enjoying WordPress all over again. In truth, building a traditional WordPress theme is a long and cumbersome process. Despite knowing the process thoroughly, it's hard to find the motivation to build yet "another" theme. Through the process of building STAX, I find myself excited to build themes once again.
I've been deep in the development of this theme for quite some time, and I can say with certainty — it's awesome! STAX will provide users with ultimate flexibility over their design. We know what a painful process building a website can be. Our goal has always been to remove the frustration of web design, and make the process fast and easy. STAX goes a step further, and makes it fun! It's a huge step forward for Organic Themes and WordPress, and we're very anxious to get this theme into your (virtual) hands — when it's ready.
Block-based themes and the Full-Site Editor are still under development. WordPress 5.9 aims to improve the FSE experience and block-based theme integration, and it's currently slated for release in mid-December. Our goal is to release STAX shortly afterwards, when the editor and framework is stable. So, expect a release by late December or January.
Additionally, Organic Themes is making other major changes within this time-frame as well. Which brings us to our next major product update.
Organic Blocks Plugin 2.0
The STAX development process has revealed that a great block-based theme requires great blocks. Fortunately, the Organic Blocks plugin provides a fantastic collection of blocks. However, it's about to get much better.
We have been thoroughly testing Organic Blocks within the Full-Site Editor and the STAX theme. Throughout the development process, we have been vastly improving our existing blocks, and adding several new blocks.
Some of the new blocks being added to the plugin include:
Hero Block – Featured banner content with background media, including background videos.
Callout Block – Quickly add emphasis to your content with bold colors, gradients, and shadows.
Icon Box Block – Create feature lists with icons and descriptions.
Featured Content Block – Display featured content in a customizable container.
Pricing Table Block – Quickly create beautiful pricing tables.
Link Container Block – Wrap any group of blocks in a clickable link.
Max Width Container Block – Define the width of content within the container.
Position Container Block – Move the position of a group of blocks.
Additionally, the existing collection of blocks have all undergone significant improvements.
The updates are almost complete, and the launch will likely coincide with the STAX theme and the new Organic Themes website. Yes, you heard that right. The Organic Themes website and brand are also making a bold change.
The New Organic Themes Website
I've been designing and developing websites for a long time — at least 15 years. When I started designing websites I was passionate. I strived to create bold, beautiful designs that were still approachable and user friendly.
Over the years, I watched design trends come and go. Some have been great, some not-so-great. Feeling the pressure, I jumped on the minimal and flat design bandwagons. However, ultimately I felt those design trends lacked soul. They lacked a human touch. Frankly, websites just got boring. And my passion faded.
For the new Organic Themes website design I wanted to feel inspired again. I wanted to design something that I would like to see. I didn't want the trends of the day bearing major influence over my design decisions. Since Organic Themes is undergoing such major changes in our product development, the site and brand should reflect those changes. As a result, I went back to my roots, and designed something bold again.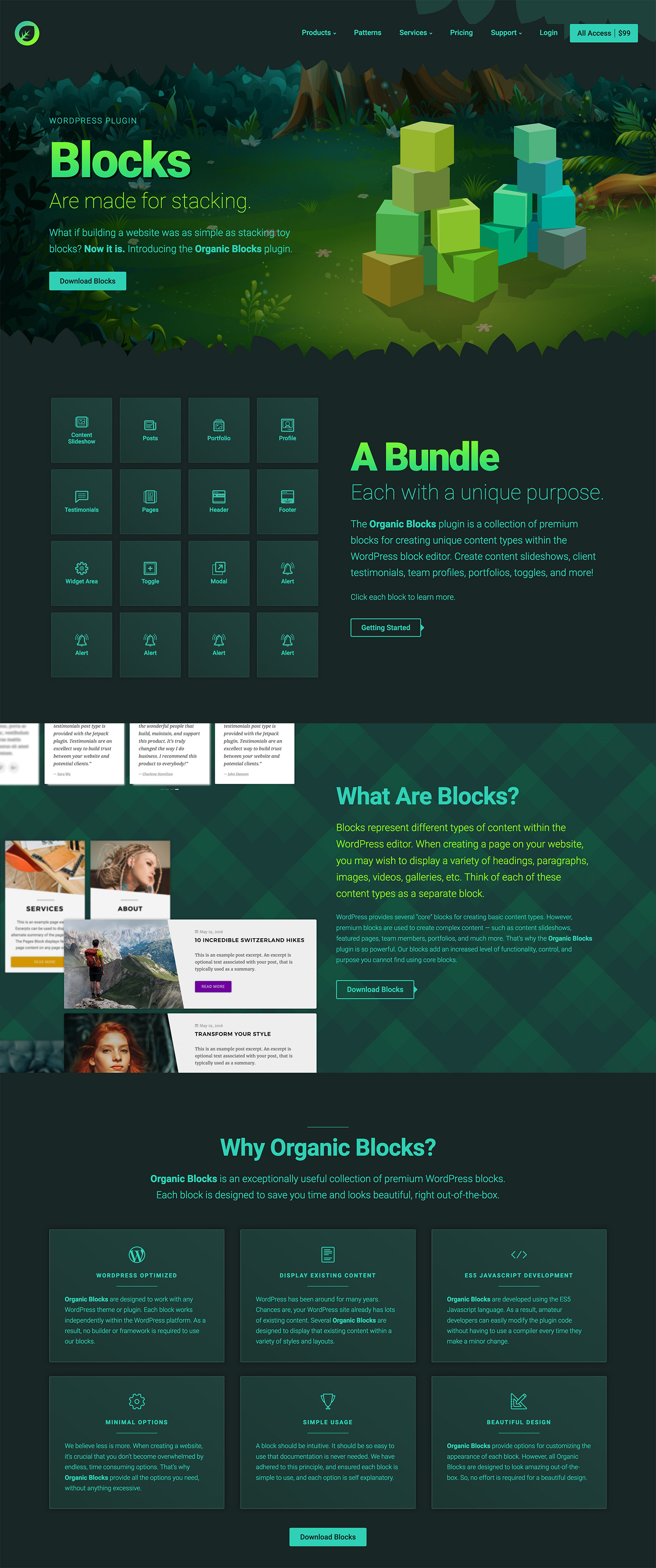 The new site won't look like any other WordPress product company's website — for good reason. Organic Themes isn't like any other WordPress company. When we're at our best, we march to the beat of our own drum.
I was trained in the corporate design industry, but Organic Themes wasn't born of that world. Instead, our company was born of the desire to escape the corporate world. That's why we moved to Maui with nothing but our cars, a couple months of survival savings, and a dream of a different life. It's why we founded our business in Hawaii. It's why we kept our business small. And it's why we love helping other people create their own websites, and free themselves from the chains of the corporate world.
When we entered the WordPress industry, it was full of people like us — nerdy tech rebels. People that didn't want to be another cog in the machine. However, over the years, the industry became more and more corporate. WordPress companies grew and swallowed up smaller companies and the people that built the platform. It's a natural evolution of any successful industry. But it became the very thing we worked to escape.
The world has changed over the past 2 years. It's my belief that people are craving authenticity and a human touch again. Not only in their personal lives, but in the products and businesses they use. As a result, I think the WordPress industry needs Organic Themes again.
The new site is our way of letting people know we're still here, and we're still the same people, but with much more experience. When you contact Organic Themes, you engage in communication with real humans — my wife, myself, and my best friend. And we just want to help.
The site will launch with the release of the new STAX theme. We're very excited about these upcoming changes, and what it means for our customers. We're also excited to put ourselves out there again, and let you get to know us as more than just a WordPress business, but as real people.