What Is Calypso, And What Does It Mean For The Future Of WordPress?
Things are heating up with the release of WordPress Calypso, but what does it mean for the future of WordPress? We'll get to that, but first let's answer the most obvious question:
What Is WordPress Calypso?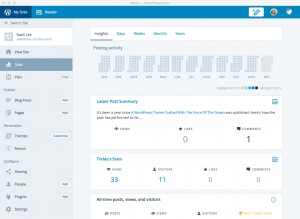 Calypso is a new interface for managing your WordPress content, making updates, changing themes, viewing stats, reading blogs and much more. It's currently in use on WordPress.com, and it's available for download as a Mac app.
Unlike the traditional WP Admin interface, Calypso uses Javascript and the WordPress REST API. That may sound like gibberish, but it drastically speeds up interactions with WordPress and allows for communication with the WordPress core from external apps and software.
Calypso brings the management of multiple WordPress.com blogs and self-hosted WordPress.org sites under one roof — so long as Jetpack is activated and connected to WordPress.com on self-hosted sites. It's all really quite slick!
So, I Need Jetpack?
If you want to manage your self-hosted sites using Calypso — Yes.
The Jetpack plugin has been a topic of controversy among WordPress developers for quite some time. It's been touted as the future of WordPress by Automattic, but many developers believe it's their Trojan Horse into the self-hosted WordPress world. The release of Calypso may have confirmed that belief. While some commercial plugin developers may see Jetpack as a threat, we do believe Jetpack and Calypso are the future of WordPress. Jetpack adds a ton of new features to your WordPress site, and now makes it possible to manage all your sites across multiple hosts with the use of Calypso — that's effing awesome! We have been integrating Jetpack compatibility into Organic Themes for years. If you've been resisting the adoption of Jetpack into your sites, it's time to give up that battle.
What Does Calypso Mean For Users?
Good things. I'm a WordPress theme designer and developer. Most of my time is spent on the other side of the curtain, writing code and working with the platform in ways unfamiliar to the average blogger. However, I do write as well, obviously — here, and on my personal blog.
The writing interface with Calypso is clean, and it's a dream to work with in the short time I've been using it. Even as I'm writing this article in the old WP Admin, it already feels like an archaic writing solution after using Calypso. I've got update notifications nagging me in the side menu, revision links shouting at me from below and a flurry of other distractions. Granted, I could use the distraction-free mode, but it still doesn't compare to the experience of writing with Calypso.
If you're like me, you have many WordPress sites to manage. I have several business, personal and other sites that I've built for family and friends. Just keeping track of them all is a hassle, much less maintaining them. As soon as I installed the Calypso Mac app, it found sites of mine that I forgot existed. Already, everything was in one place, and I started updating themes, plugins and content across sites I hadn't logged into for months. This alone was enough to make me fall in love with Calypso immediately.
For the average user, Calypso will drastically increase your workflow. It will increase the speed at which you can produce posts and pages across multiple sites without the usual hassle of switching between multiple browser tabs, logging in and out, forgetting passwords and navigating through a slow WP admin. Calypso lets you focus on the content of your site. If you're a WordPress blogger, Calypso is a must have.
What Does Calypso Mean For Theme Authors?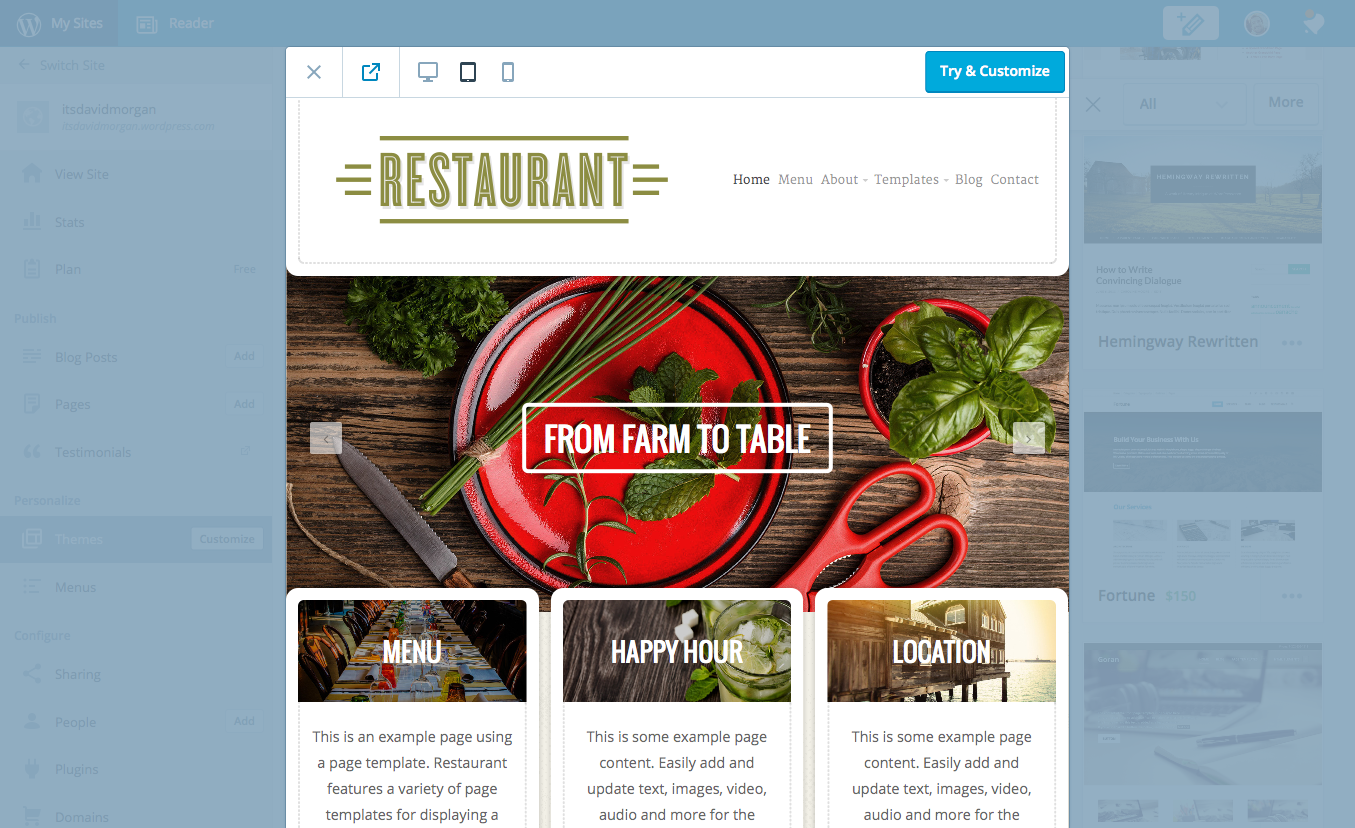 Well, it depends on the type of theme author you are. Calypso eliminates the need to login to the WordPress admin from a browser to manage content. In the future, it may eliminate the need for the WP admin altogether. The theme customizer in Calypso currently works seamlessly with WordPress.com sites. It's probably only a matter of time before it works seamlessly with self-hosted sites without redirecting the user to the WP admin. That's good news for theme authors that haven't built bulky custom options panels and frameworks that rely heavily on logging in to the old WordPress admin.
For Organic Themes, Calypso is great news!
As a theme partner with Automattic and WordPress.com, we have been building our lean themes to meet WordPress standards for years — including several premium themes on WordPress.com and free themes in the WordPress.org directory. Our themes are designed to be compatible with Jetpack, and many of them taking advantage of features such as Infinite Scroll, Featured Content and Custom Post Types. In addition, our themes use the WordPress core supported customizer for customizing themes and managing options. Since our themes don't rely heavily on the old WP admin for management, using an Organic Theme with Calypso is a piece of cake.
On the other hand, theme authors that have created bulky custom options panels and features that rely on the usage of the old WP admin, Calypso could spell trouble. Customers of these themes may need to continue logging in and using an interface that is disjointed and becoming obsolete. It will create more time, and eventually more confusion for the customer as Calypso is adopted by more and more users.
In my opinion, theme authors have a few options to evolve or adapt:
Authors could create a custom app for their custom WordPress interface, which will present its set of challenges with the cost of development and marketing. This option would create a user experience separate from what WordPress has created that could create more confusion among users. In some ways, these authors would be competing directly with WordPress.
Authors could continue to develop themes the same way, and continue educating their customers how to use an interface that is slowly fading away. Fortunately, millions of users are familiar with the WordPress admin as it exists today, so people will continue to use it for years to come. However, this probably isn't sustainable long term.
Authors could start building their themes to be more inline with the core features of WordPress, and switching over their options panels to utilize the WordPress customizer so they work seamlessly with Calypso. This is no easy task, particularly if you have a large portfolio of themes that need to be converted. Trust us, we know. We started the process of converting our old themes to the customizer as soon as it was released, and we're still working on it.
What Does Calypso Mean For The Future of WordPress?
Things are going to change — hopefully for the good of the WordPress community.
Calypso is not backwards compatible with the old WP admin interface. It's a new way of communicating with the WordPress core. Developers may need to learn Javascript and the REST API in order to develop for the new interface. That might be asking a lot in a community of many self-taught developers that only recently have wrapped their heads around PHP. Calypso is going to be the start of a shift in the world of WordPress development.
Once upon a time, I used Flash to build websites. As an animation major, it was a familiar timeline interface for me to comfortably work with. I wasn't a developer, but I learned enough ActionScript to make some sweet websites. Then, Apple announced the iPhone wasn't going to support Flash. Around the same time Flash changed from ActionScript 2.0 to 3.0 — a much more significant transition than it would seem. It simply wasn't worth learning a new language in the face of Apple's lack of mobile support. This shift alienated many Flash web developers, and made it no longer a viable solution for websites. It was a devastating shift. Within a couple years, developers would cringe at the mention of Flash. Most of us jumped ship. I broke out the old HTML and CSS books from college, and started learning WordPress. Everything needed to learn WordPress was readily available for free, and it seemed like the future of the web. Luckily, we were right.
Fortunately for WordPress, it has millions upon millions of users, and it's still the most viable option for creating websites. Jumping ship is not a good option. It probably shouldn't even be considered. Evolving and adapting to these changes is the best option.
Despite the new learning curve WordPress may be forcing upon its community, I think it means exciting things for the future. We're going to see many more apps and interfaces used to power WordPress sites and solutions. WordPress is already the best solution for websites, but it may become one of the best solutions for applications in general.
In our case, we'll keep working to build the best themes we can that utilize the core features and power of the evolving WordPress platform. We believe in going with the flow of WordPress, and we like where things are heading with Calypso!
Calypso is a huge step for WordPress in its evolutionary development. We're really excited to see an influx of new users adopting Calypso as their interface, and I'm just excited to be using it myself for managing content. The future of WordPress is bright!