The Portfolio Theme is perfect for showcasing the visual talents of creative professionals! The clean and minimal design focuses on the imagery. So, visitors will appreciate your artwork to the fullest extent — without distraction. Gain more clients. Sell your artwork. Use the Portfolio Theme for your website!
Endless Galleries and Slideshows

Using the Portfolio Theme, you can create unlimited gallery pages for your art and design. It's simple. First, create a category such as illustration, painting, or design. Next, add a post within the WordPress dashboard, and assign a category. Once you've added your artwork as individual posts, you can then display the entire category as its own portfolio. It's that easy!
In some cases, a slideshow may be better for displaying your artwork. Fortunately, you can create unlimited slideshows using the included "Slideshow" page template. Simply apply the page template. Then, add an image gallery to the page. Voila! Instant slideshow!
A Minimal and Unique Design
The Portfolio Theme features a design that's minimal in style. However, its unique layout stands out among other portfolio website solutions.
Vertically Anchored Navigation
The vertical website navigation always remains visible — anchored in the same position. Sub-pages within the menu are hidden from display until their parent page is clicked. Also, the navigation style adapts as the screen size changes. So, visitors can reliable navigate your portfolio with ease using any device.
Vertically Centered Slideshows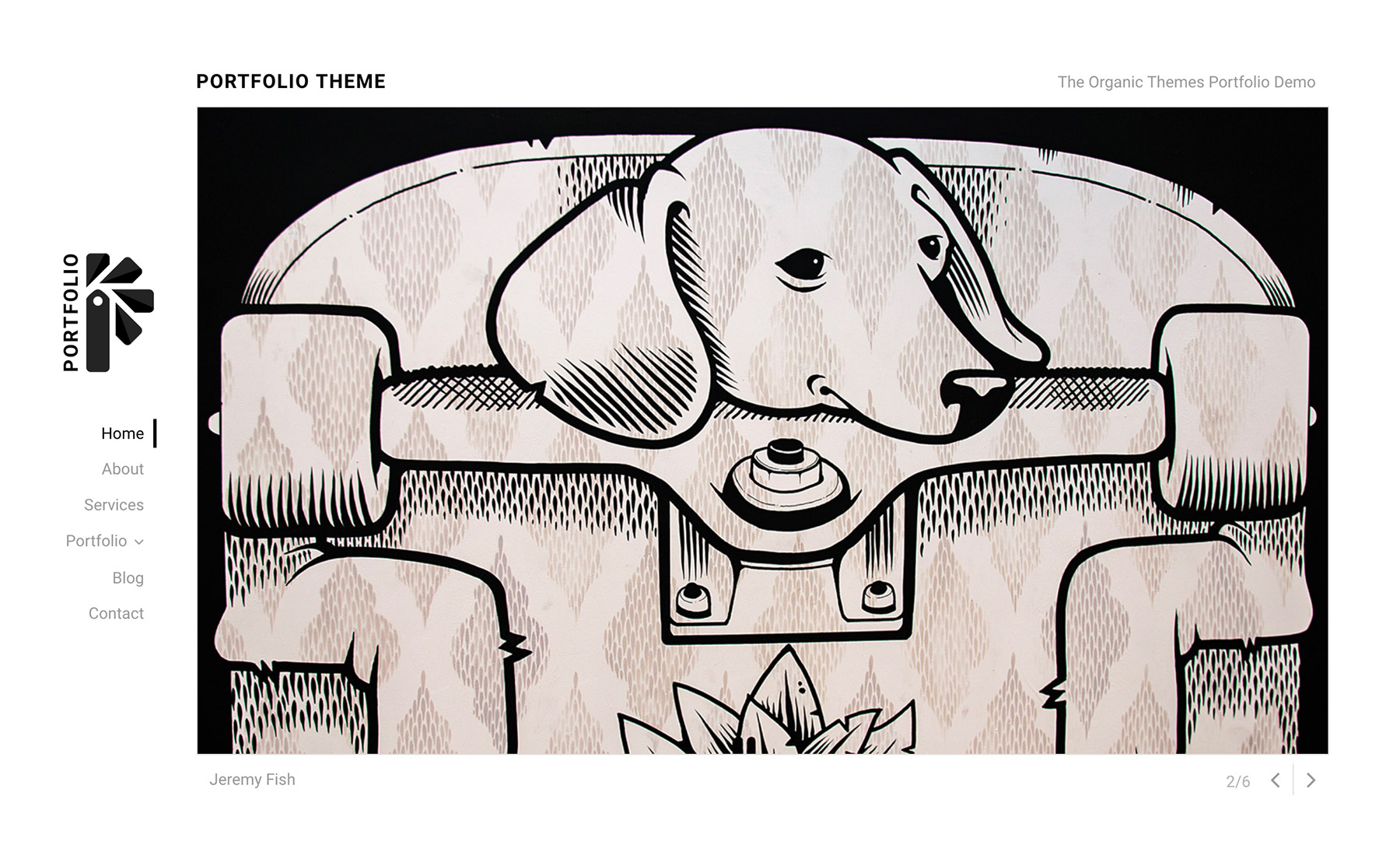 Slideshows are centered horizontally and vertically within the browser window. It's a style that used to be common among Flash portfolio websites. However, as websites transitioned towards better HTML and CSS structures, achieving vertically centered content was a challenge until recently. Now, with widely adopted browser support for CSS flexbox styles, this look can achieved once again.
Gallery Categories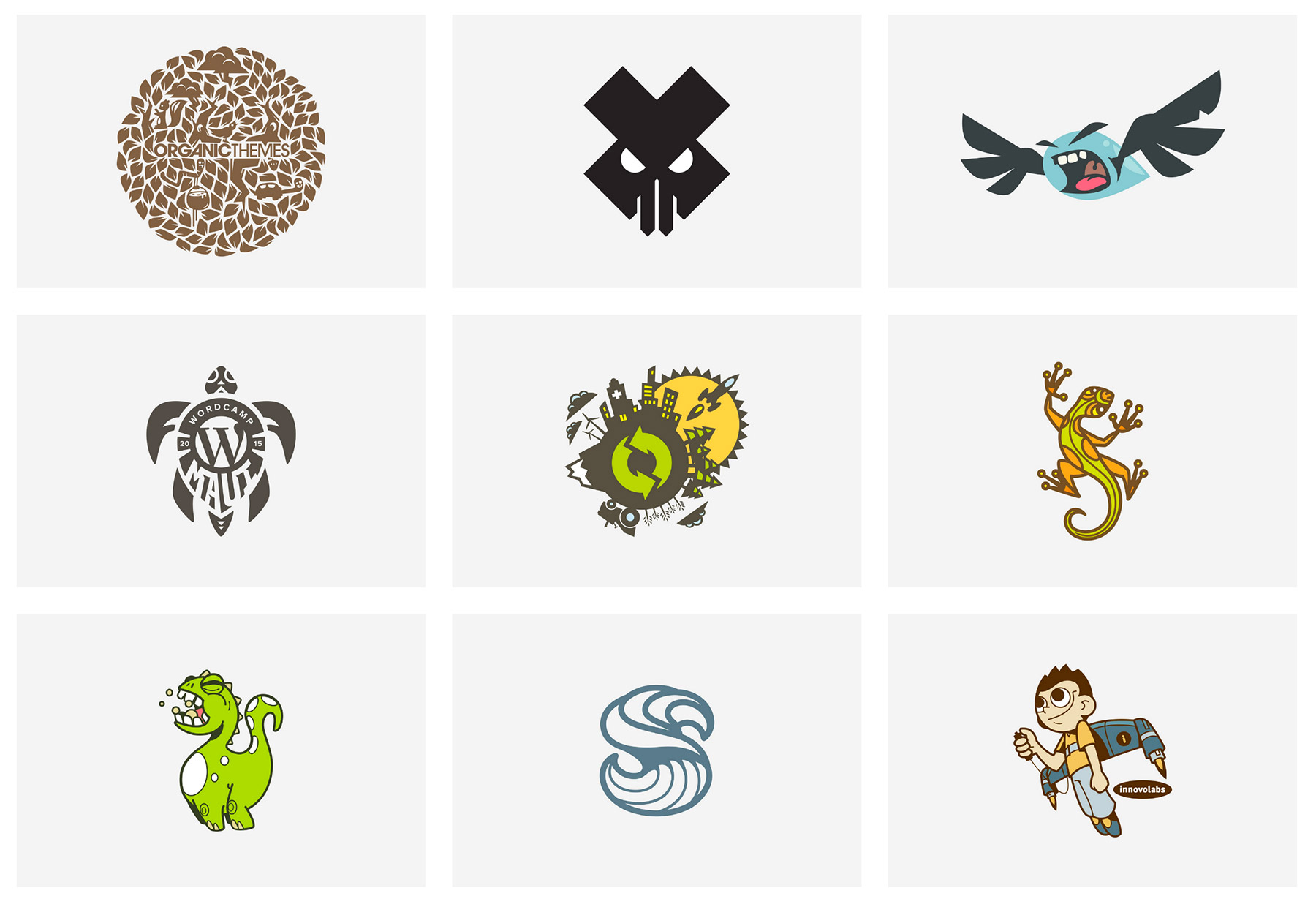 Display a responsive 3-column gallery layout using categories. Only the featured image displays until hovered. Then, the post tile appears over the image. So, you can create full gallery pages that focus entirely on the imagery. Additionally, the columns decrease with the browser window size for a fully responsive layout.
Clear And Legible Typography
In the case of a portfolio website, the typography should not be a distraction from the imagery. So, the typography throughout the theme is simple and highly legible across all devices. As a result, visitors can focus on the artwork as the priority, and the content secondarily.
Sell and Share Your Artwork
I'm sure you've heard the phrase "Starving Artist". Unfortunately, it's true far too often. Even great artists have difficulty promoting and selling their artwork. That's because being a great artist doesn't make you a great salesman. Additionally, by nature, most artists are introverts. Fortunately, creating a portfolio website and online store circumvents those problems. So, you don't need to be a social butterfly. Using the Portfolio Theme, it's easy to sell and promote your work online.
That's why the theme works perfectly with the most popular eCommerce plugin for WordPress, WooCommerce. So, you can stop starving and start selling your art and design online today.
Additionally, sharing your artwork is simple. The social media menu displays within the main navigation menu. So, you can direct visitors to your additional portfolios across other creative social networks such as Behance, Dribbble or Deviant Art. In addition, the theme is compatible with the WordPress Jetpack plugin. The Jetpack sharing module is perfect for promoting your work.
Mobile Perfection
Potential clients and customers will be viewing your portfolio website on their phones. As a result, your portfolio should make a great impression across any device or screen size. The responsive framework for the Portfolio Theme ensures that visitors will view and browse your work with ease.
Upgrade To The Portfolio Theme
Consider these reasons to upgrade from Portfolio Lite to the premium version:
WooCommerce Integration
The Portfolio Theme integrates seamlessly with the popular WooCommerce plugin. So, you can create an online shop to sell your artwork, designs, and crafts.
Color Options
Several options for changing link, button, and background colors are included within the theme. Color changes are viewed in real-time within the customizer.
Page Templates
Several additional page templates are included with the premium Portfolio Theme:
Home Slideshow – A featured content slideshow template.
Project Slideshow – A slideshow of Projects from the Jetpack Portfolio custom post type.
Landing Page – An "Under Construction" page template that can be used while building your site.
Testimonials – A page for displaying client testimonials.
Portfolio – A portfolio page template for displaying multiple categories.
Collapsible Menus
The theme features an option to collapse sub menus. As a result, you can add several sub menu links for galleries while maintaining a minimal menu.
Demo Content
Setup your site like the theme demo using the One Click Demo Import plugin. Then, use the content as a guide to build your website.
Simple Setup
Theme options are located in the WordPress Customizer. So, customizing your website's appearance is simple and intuitive. As a result, the setup process is completed within minutes!
Customer Support
Purchase the premium version to gain access to our extensive technical support forums, helpful support team, documentation, and tutorials that are unavailable to Portfolio Lite users.