Whether you're the leader of a prominent guild or the developer of an indie game — the Gamer Theme was designed for your needs.
The founders of Organic Themes are no strangers to the joys of video games. We built our theme business in-between Starcraft II game breaks. We're avid fans of the "Ready Player One" and "Ender's Game" novels. We sometimes work while listening to old midi tracks from Donkey Kong Country. Gaming is in our blood. So, the Gamer Theme was a long time coming.
The Gamer Theme is more than a WordPress theme for the gaming industry. The demo is an homage to many of our favorite games, from Zelda: A Link To The Past to Zelda: Breath Of The Wild. As a result, we poured our gamer souls into the design and development of this theme. It shows.
Gaming Interface Inspired Design
We usually take a minimal approach when it comes to theme design. However, that wasn't the right approach to creating a WordPress theme for gamers. So, the Gamer Theme features shadows, bevels, patterns, and other design effects intended to mirror the styles of a game interface. Additionally, the theme features options to change the colors considerably, while maintaining those effects.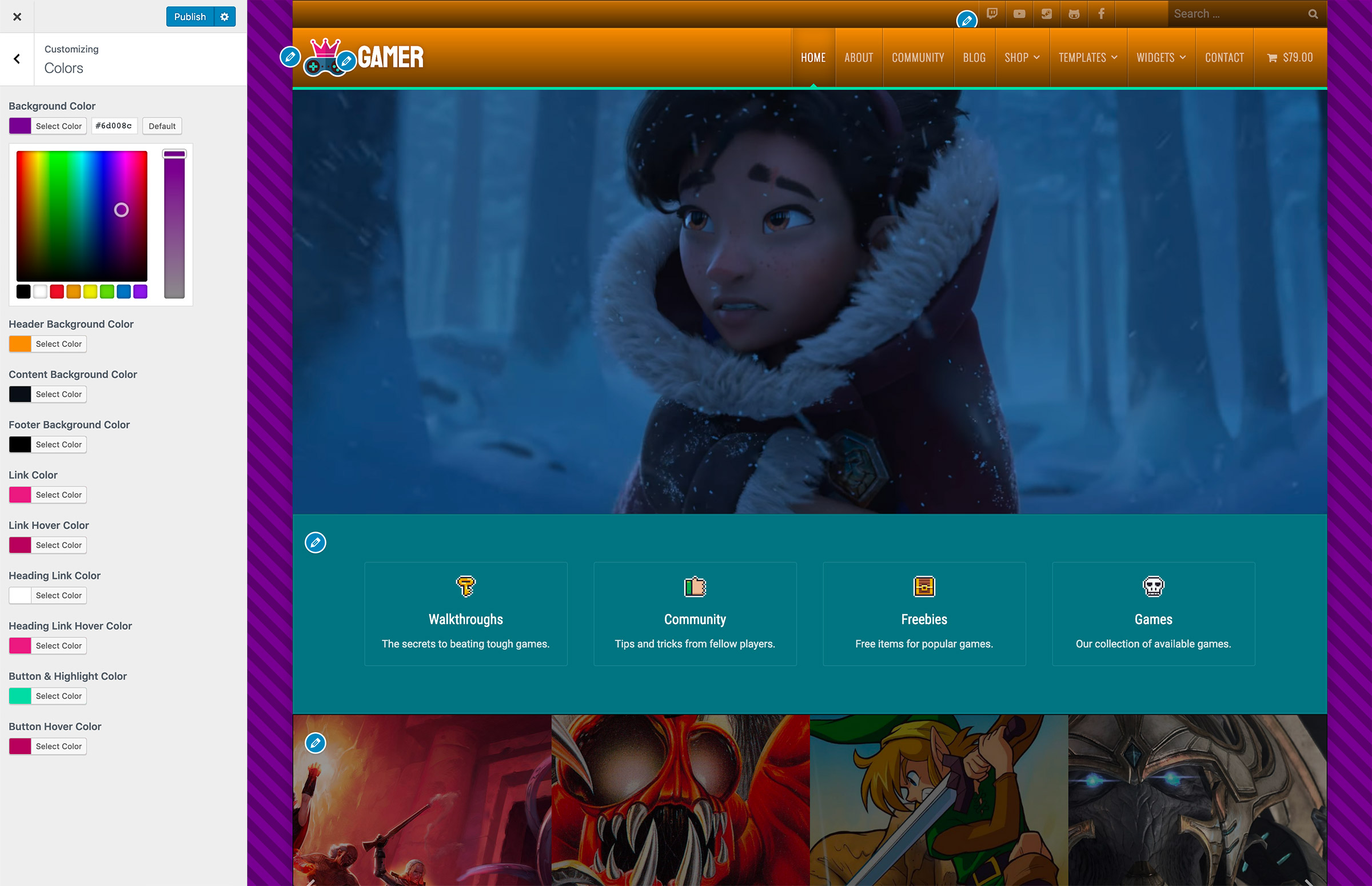 A Widget Powered Home Page
The Gamer Theme features our first demo in which the home page design was created entirely using the Builder Widgets Pro plugin. As a result, the flexibility of the home page layout, design, and functionality is endless. Page sections can be moved into different arrangements, or more widgets can be added for displaying portfolios, slideshows, videos, and much more! It's all accomplished within the WordPress Customizer. So, changes are viewed in real-time. Creating a website using the Gamer Theme is like a game unto itself.
bbPress Forum Compatibility
Maybe you need a hub for discussing strategies with your fellow guild members, or a support forum for your latest indie game released on Steam. Regardless, communication is an integral part of gaming. That's why we designed the Gamer Theme to be fully compatible with the bbPress forum plugin. As a result, creating community forums using the Gamer Theme and bbPress is simple.
WooCommerce Compatibility
If you develop games, you probably want to sell them. Of course, there are several marketplaces for selling your games. However, if you want complete control and full profits from your game sales, there is no better place to sell your software than directly from your site. So, we developed the Gamer Theme to be fully compatible with the most popular and powerful eCommerce software available — WooCommerce. Start cashing in your games for some real coins using the Gamer Theme and WooCommerce.
Everything Else
The other theme features adhere to the standard of quality that Organic Themes are known for. It's fully responsive, retina screen optimized, and features the latest WordPress functionality including header videos and custom logos. Additionally, the theme is fully optimized for the Gutenberg content editor. So, you can rest assured the Gamer Theme is ready for the future of WordPress — and the future of gaming.
"It's dangerous to go alone, take this!" — The Legend of Zelda