How To Convert WordPress Classic Content To Gutenberg Blocks
Quickly scan and convert all WordPress classic content blocks to individual blocks.
Organic Themes is excited to announce the release of the free Bulk Block Converter plugin. We created the plugin to help users migrate their content from the classic editor to WordPress 5 blocks.
Download Bulk Block Converter Plugin
After upgrading from WordPress version 4 to version 5, previously created content is contained within the WordPress "Classic" block. Converting that content into individual blocks requires editing each page and/or post separately. If you have several posts and pages in need of conversion, it's a long and tedious process.
The Bulk Block Converter plugin vastly improves the process of converting old content to blocks. The plugin scans all of your WordPress content for posts and pages that contain the "Classic" block. Then, it returns a list of all content available for conversion. Choose to convert content individually, or bulk convert all posts and pages to WordPress blocks.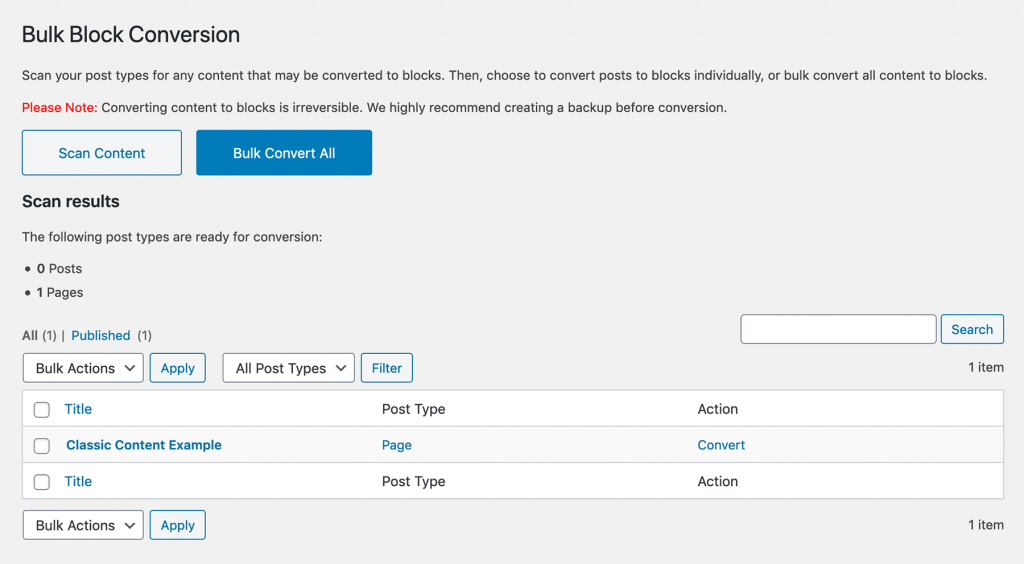 Who Needs This Tool?
We discovered the need for this tool when updating our theme demos to WordPress 5. Many of our demos were created several years ago, before the release of WordPress 5 or the Gutenberg editor. On average, our theme demos contain 50 posts and pages. With over 40 themes, you can see how editing over 2,000 posts individually could be a cumbersome process. In fact, it would take days.
I searched the WordPress plugin directory for a solution. It didn't exist. Surely, we couldn't be the only ones encountering this problem…
WordPress is the most popular platform for websites and blogs — for over 10 years. As a result, there are millions of sites created using the platform. Many of those websites contain hundreds, even thousands, of posts and pages. You can do the math. That's a ton of content that needs to be converted to blocks!
The Bulk Block Converter plugin is a necessity for WordPress web designers that maintain client websites. Additionally, it's an excellent tool for users and bloggers that are ready to make the transition from the WordPress classic editor to the new block editor.
Why Convert Content To Blocks?
The fact is, the WordPress block editor IS much better than the classic editor. Plus, it's gets better with every new WordPress update.
Eventually, you and your clients should use the block editor. Otherwise, it's stunting the progression of the WordPress platform.
Judging from the 5+ million active installations of the Classic Editor plugin, there are still millions of sites that should transition to the block editor. The Classic Editor plugin is great. However, it should be a stop-gap measure — a short term fix before fully transitioning to the block editor.
If you're like me, I can't stand the thought of some posts and pages existing in the old classic content form, while others use shiny new blocks. For consistency, I prefer the same editing experience across the board. Additionally, it's much less confusing your clients, rather than alternating between two editor experiences.
The Bulk Block Converter plugin provides an easy transition to the WordPress 5 block editor. Plus, it's totally free! No more excuses! Migrate all your WordPress content to blocks with ease today.
As always, if you like this free plugin, we would greatly appreciate a positive review. It only takes a moment!