A Free WordPress Theme For Musicians, Bands and Entertainers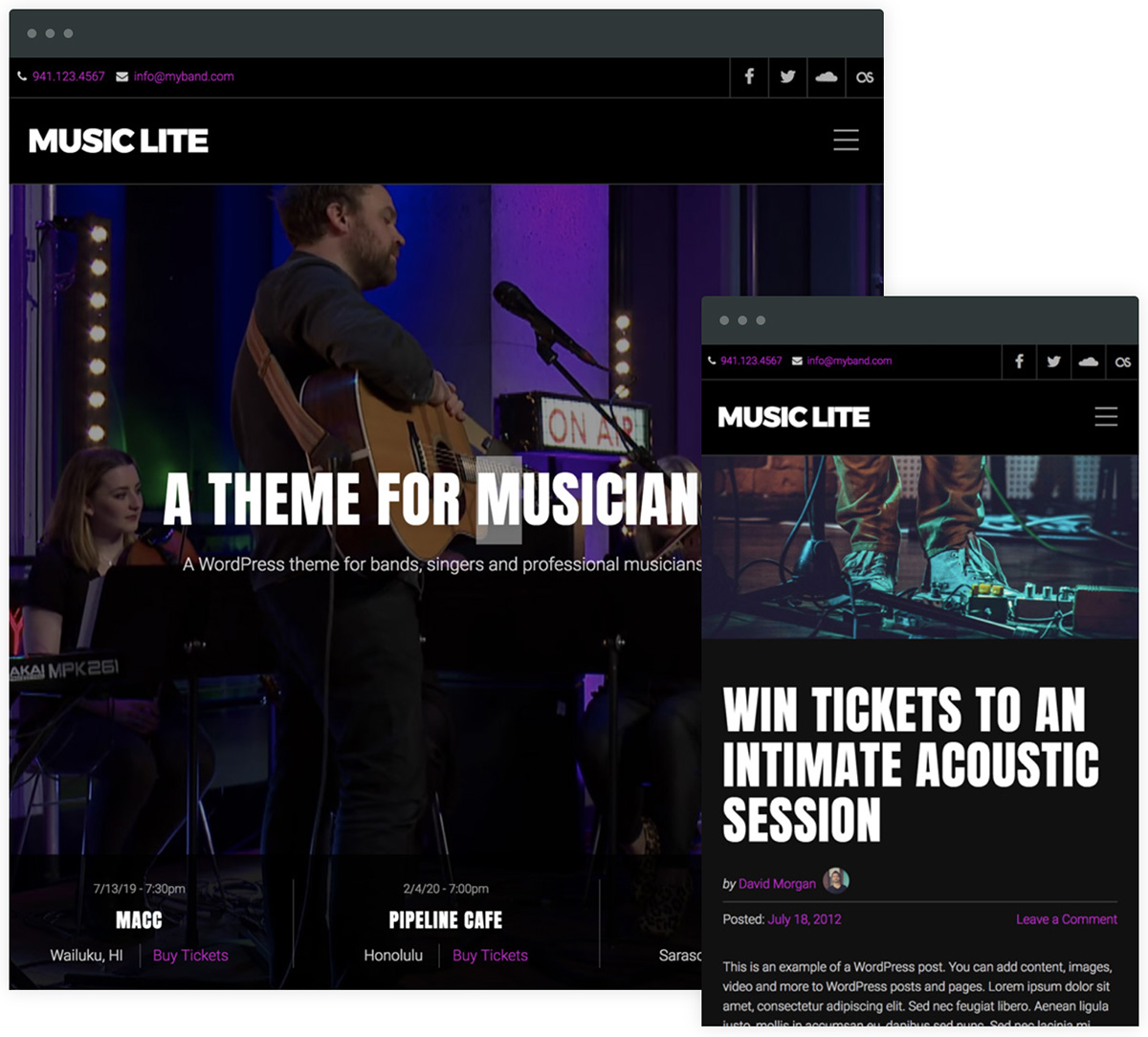 Christmas has come early for musicians in need of a website! Music Lite is a slimmed down version of our recently revamped Music Theme. It's an excellent and free WordPress theme for musicians, bands and entertainers on a tight budget.
Organic Themes has long catered to the struggling artist. Our free WordPress themes like Portfolio Lite and Structure Lite are popular among artists and designers. However, Music Lite is our first free theme for that other struggling artist — the musician.
Music Lite Theme Features
The Music Lite theme has a sleek, dark and fully responsive design. It features a home page template, tour dates, blog and compatibility with popular music player plugins. Additionally, Music Lite is fully compatible with our Organic Customizer Widgets plugin. As a result, you can build dynamic pages to display a discography, fan testimonials, featured merchandise and more!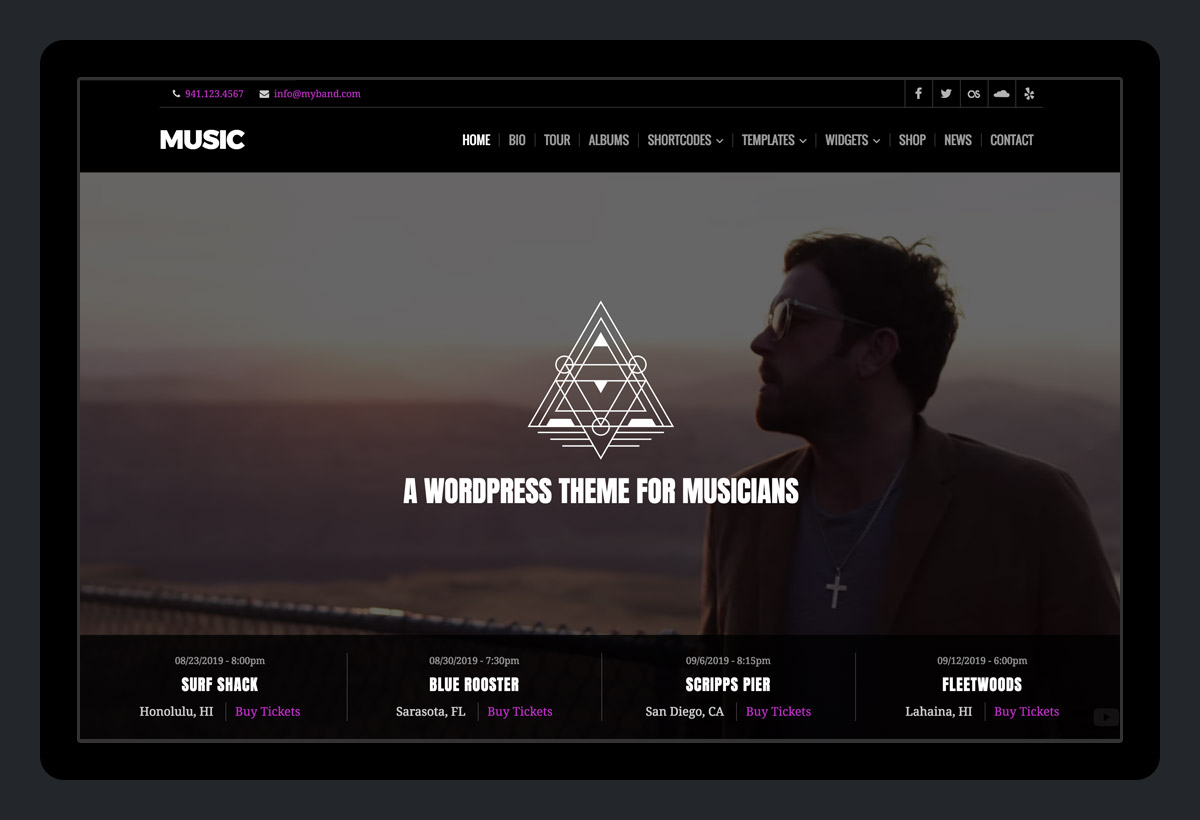 Creating the Home Page
The home page is designed to always fit within the browser window. Upcoming tour dates, social media links and a featured background image or video can be displayed on the home page. Follow these instructions to create a home page:
Navigate to Pages > Add New.
Add a Page Title (*It will display in bold on the home page).
Optional: Add an Excerpt (*It will display beneath title).
Optional: Add Featured Image (*It will display as background image).
Within Page Attributes select the "Home" template.
Publish the page.
Navigate to Settings > Reading.
Within the homepage settings select the "static page" option.
Select your recently published home page from the drop down options.
Adding Tour Dates
The theme should notify you to install and activate the Organic Custom Content plugin. The plugin adds the Tour Date custom post type to the theme. Once the plugin is activated, follow these instructions to add tour dates:
Navigate to Tour Dates > Add New Date.
Enter your tour date time, location, venue and ticket link.
Publish the tour date.
Up to your 4 most recent tour dates will display at the bottom of the home page. Tour dates that have passed will automatically be hidden. If you would like to create a page with all upcoming tour dates listed, please consider upgrading to the premium Music Theme.
Adding Social Media Links
A social media menu can be added to the theme header. This is accomplished by creating a custom menu. Follow these instructions to add a social media menu:
Navigate to Appearance > Menus.
Click the link to "create a new menu".
Add a Menu Name (i.e. Social Menu).
Click the blue "Create Menu" button.
Within the Menu Settings, check "Social Menu" as the display location.
On the left, select the Custom Links tab.
Add a link to your social media profile in the URL field.
Add the Link Text such as "Soundcloud" (Note: This text will not be displayed, but it is required).
Click the "Add To Menu" button.
Repeat steps 7-9 for each social media link.
Click the blue "Save Menu" button.
Additional Features In Premium Music Theme
Upgrade to the premium Music Theme for more options and functionality. The premium version features the ability to add and display more tour dates on a tour dates page template. Additionally, there are several more theme options available within the WordPress customizer for modifying colors, fonts, layout, slideshows and more. Also, the theme is compatible with WooCommerce. So you can setup a shop on your site to sell band merchandise. If you like Music Lite, you'll love the premium Music Theme!
Music Lite is currently in the queue for the official WordPress theme directory. Once accepted, users will receive automatic updates and bug fixes. While we wait for the review process, the only place to download this rocking theme is directly from our site here.