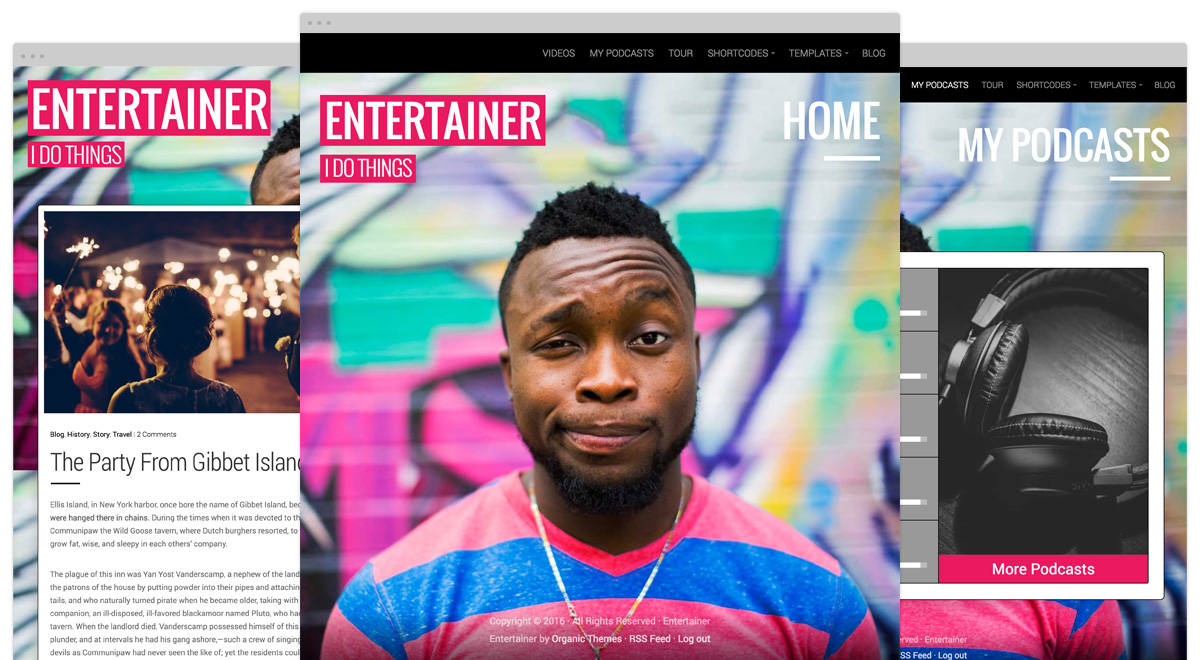 Calling all entertainers! The Entertainer WordPress Theme was made for the business like no other business — showbiz! Actors, hosts, comedians, musicians and dancers now have the perfect WordPress theme for showcasing their talents. Even clowns can use this theme — except those creepy clowns popping up at your local grocery store. We like to pretend those guys don't exist.
Why would Organic Themes create a WordPress theme for entertainers? What do we know about the showbiz industry? A little. Jeff and I attended a visual and performing arts high school in Central Florida. We were nerdy visual arts students. Our days were spent drawing, painting and playing with Adobe Photoshop version 3.0. Occasionally, we were forced to attend a dance recital or the latest performance from the more extrovert half of our high school. So I wouldn't say we're experts in entertainment, but we were lucky enough to have been introduced to the performing arts at an early age. However, my little brother, Elliott Morgan, attended that same high school as a thespian. He later moved to the City of Angels, and went on to achieve success in the entertainment industry. Elliott has a comedy special, been the host of several popular YouTube channels, hosted network television shows and has hundreds of thousands of social media followers. When we were hanging out together in L.A. a few weeks ago, I ran the Entertainer Theme past a true expert in the industry. I believe his words were, "Awesome, dude!"
The Entertainer Theme was created with the needs of an entertainer like my brother in mind. It's a WordPress theme for professionals in showbiz that have a lot going on. The theme utilizes post formats and custom post types for displaying videos, podcasts, tour dates, news and more. The full screen background is perfect for showing off your favorite headshot or band photo. In addition, the theme features 2 social media menus — one in the header and footer. So your fans can quickly connect by subscribing to your YouTube channel or following your Instagram account.
Start using the Entertainer Theme today to promote your talents, and help on your way to stardom!