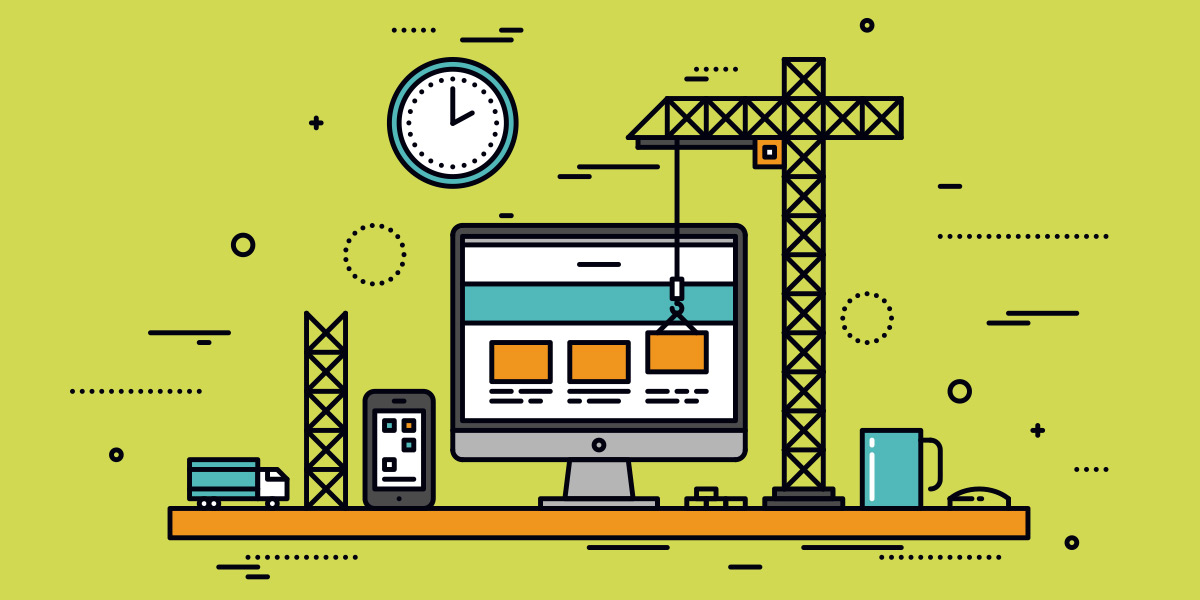 Many of our customers are designers, developers and bloggers already familiar with the basics of creating a website. However, we also encounter a number of website virgins — creating a WordPress website for the first time. They are completely unfamiliar with the process.
For newcomers, there is an overwhelming amount of information surrounding the topic. Most of it is confusing rubbish. There are essentially 5 steps to creating a professional, self-hosted website. I'm going to dispel any myths about the difficulties of creating a website.
Please Note: If you want to skip the work involved with Steps 1 – 4, you can use our Instant Setup service.
Step 1: Register A Domain Name
It's easy to think about a website in terms of real estate. A domain is your address. It's how people on the internet will find you.
Securing a good domain name is a task unto itself. Chances are, the name you want is already registered as a .com. You might need to get creative. Generally, the shorter and more memorable the domain, the better.
For example, my name is David Morgan. A very common name. My name was registered to a company that sells southwestern apparel. So, I had to get creative. The domain "idmorgan.com" was available. I registered it, then created a subdomain for that domain. So, my website address is dav.idmorgan.com.
If you need to get creative, Domai.nr is a great registrar for finding unique domain names.
It can be a good idea to register a domain with your desired hosting provider. It makes managing the domain easier and often transparent.
For instance, if you plan to host with Kahuna Host, registering a domain while signing up will result in a faster, easier setup process. Otherwise, you will need to direct or "point" the domain from the registrar to the hosting provider. While pointing a domain is a relatively easy process, we have found it can be confusing for newcomers.
Personally, I have a collection of domains. When I get an idea for a project or product, I'm likely to register a new domain. Having domains separate from your host has advantages as well — particularly if you want to change hosting providers. I use Hover.com. I love their service. Their interface makes it simple to manage several domains.
The cost of a domain varies — usually around $12/year for generic TLDs such as .com, .net, .org and .info.
Step 2: Finding A Host
In real estate terms, a hosting provider is the land where your house resides. Like a domain, it is a necessity. We have had customers tell us they want to keep their website, but cancel their hosting. Unfortunately, it doesn't work that way. You can't remove the land from underneath the house.
Hosting varies considerably in price and quality. It can be the difference between Baltic Avenue and Boardwalk in the game of Monopoly. We spend over $2,000 per month on hosting. Google has teams of employees devoted to hosting, and probably spends hundreds of thousands per month.
For your first website, you can expect to pay anywhere from $5 to $50 monthly, depending on your desired experience. When purchasing hosting, you are renting space on a server for your website files to reside. You are also buying security, speed, reliability, management and more. Hosting features vary as much as the prices. At the end of the day, you want to find a host that caters to your needs. Our sister company, Kahuna Host caters to the needs of self-hosted WordPress users.
Step 3: Choosing WordPress As The CMS
Continuing with the real estate analogy, WordPress is the foundation, frame, plumbing, wiring and roof of your house.
A content management system (CMS) is software for managing your website — similar to using OSX on your Apple, or Windows on your PC. A good CMS allows for the creation and management of pages, blog posts, menus, content and much more with ease.
There are many CMS options for managing websites. Sparing the confusion, WordPress is arguably the best web CMS available. The platform is open source, extremely powerful, secure, user friendly and best of all, it's completely free. What began as a simple blogging platform has evolved into a powerful tool for creating any kind of website. In short, we recommend it.
If it's free, how good can it really be?
Really good. Thousands of talented designers and developers have contributed to development of WordPress by improving the core software, creating themes, plugins and more. It has been tested and constantly improved over the course of several years by millions of users. It's used by single moms and fortune 500 companies alike. WordPress currently powers over 50% of all sites that use content management systems. When taking into consideration how many websites exist on the internet, that number is massive — over 74.6 million websites. Just take a look at how many times the latest version of WordPress has been downloaded.
Just because WordPress is powerful, doesn't mean it's incredibly simple. While it is very user friendly, it will require some effort to familiarize yourself with using WordPress. Like any new software, there is a learning curve involved.
It's not magic. WordPress does not build your website for you. It won't read your mind. It's a vehicle for adding content, images, functionality, changing the appearance of your website and more. The possibilities are endless with WordPress, but don't let that overwhelm you.
Step 4: The Website Appearance
WordPress Themes control the appearance of your site. In real estate, a WordPress theme is the paint on the walls, the type of flooring, landscaping, etc. It's the presentation of your content — what people see when they visit your site.
Literally, a WordPress theme is a bunch of HTML, CSS, PHP and Javascript files designed and coded to hold WordPress content.
There are no shortage of themes available for WordPress. Hundreds are available for free within the theme directory, including our popular Swell Lite theme with over 40,000 downloads.
When we started Organic Themes in 2009, we were one of the few companies offering "premium" commercial themes. Since then, the theme market has grown considerably. We have been fortunate enough to partner with WordPress.com and remain one of the top WordPress theme providers in the industry.
Choosing a theme is a matter of needs and personal preference. It's the most artistic piece of the website process — and also the most subjective. Some people change themes like they're changing clothes. I used to re-design my theme every couple months — hence the reason I became a theme designer and developer.
We often receive questions like, "Should I choose the Business Theme or Natural Theme?" If both themes suit your needs, then simply choose the one you like more.
Despite themes being subjective, there are a few factors that make a theme great. It boils down to great organization. Organization of the design, code and theme files. Everything on top of that is just fluff — or as we like to call it, added hormones.
In terms of installing and setting up a theme, WordPress has made this an easy process. We've provided theme installation instructions here. Setting up a theme usually requires the setting and saving of theme options — give or take a couple steps.
Step 5: Adding Content
The content is the most important part of your website. As the saying goes, content is king. It is the furniture in your house, the food in your fridge; what makes your space habitable.
It's a common misconception among first timers that the purchase of a theme includes the content seen in the demo. In our case, we offer the demo content as a separate file that may be uploaded. However, content is not installed with the theme. Content is independent of a theme. Many WordPress users have existing content, and installing a theme that creates additional content is very undesirable.
The content is up to you. There is an art to writing great content, organizing your pages and using great images. Poor content and images will make the difference between an amateur site and a professional one. It's a mistake I see all too often. We have written an article of 5 tips to creating beautiful content here.
I hope this article will prove helpful to people navigating the waters of building a website for the first time. Obviously, we sell products to help you along the way. However, we are a small company and our satisfaction comes from helping others achieve a professional presence on the web. It's what motivates us to keep producing and improving our products.